This page is a record of events during the 2012-2013 academic year sponsored by the Gender, Women's, and Sexuality Studies department or Noun Program.
"Sameness, Underwear, Pleasure, and Need: What Does Queer Theory Ask Us to Do?"
Thursday, February 28th JRC 101 4:15 pm
Kathryn Bond Stockton is a Distinguished Professor of English at the University of Utah. This event is sponsored by the Gender, Women's, and Sexuality Studies Department, the Humanities Center, the Department of English, and the SRC.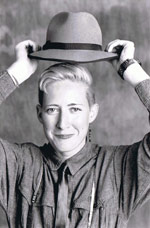 Photo Courtesy of the University of Utah
This talk reminds us of how "queer theory" (which will be both defined and explained) changes our thinking on "same-sex" relations (yes, via underwear and so much more—Fight Club, femmes, big toes, ideals) and thus unsettles our easy notions of "gay," "transgendered," and "straight" lives. Then, taking off from these interventions in sexual thought, this talk explores how queer theory, which elevates pleasure, takes on matters of power and loss, even as they touch on money and need. How might we think about the power to lose? Can a queer hedonistic ethic lubricate our practice of redistribution? Can it help us fight structural inequalities while affirming luxury? These are the knots this talk will address.
"On Not Hooking Up"
Wednesday, Feb 6th, 2013, 7:30p in JRC 101
Shaka McGlotten '97 is an Assistant Professor of Media, Society, and the Arts at Purchase College, where he teaches courses on media, ethnography, and digital culture. His research focuses on the intersections of media technologies with categories of gender, sexuality, and race in particular.
Photos Courtesy of SUNY Purchase and Grindr
"On Not Hooking Up" uses recent discussions in queer studies about failure to examine the smartphone hook up app, Grindr. Grindr promises connections to men on the move, but its instrumental appeal rarely delivers. I focus especially on browsing, which, I suggest, is a wide-spread practice that underscores the immanence of virtual intimacies and offers a counter-discourse to winner-takes-all visions of success--social, economic, political, sexual, or otherwise.
Reception with Grinnell Social Justice Prize Winner Cristi Hegranes
Monday, Nov 12th, 2012, 4:15pm in the Mears Cottage Living Room
Ms. Hegranes is the founder of the Global Press Institute, which seeks to empower women by providing comprehensive journalism training so that women can create locally-produced journalism to address issues of social justice.
Photo Courtesy of the Global Press Institute
Meet and discuss with this Grinnell Social Justice Prise Winner!
Racing for Innocence: Whiteness, Gender, and the Backlash Against Affirmative Action
Thursday, Nov 8, 2012, 4:15p in JRC 101
An award-winning teacher and sociologist, Prof. Jennifer Pierce is Professor of American Studies at the University of Minnesota who focuses on the micropolitics of inequality. She has visited Grinnell before, and trained Prof. Karla Erickson of Grinnell College. She looks forward to discussion of her work with students and faculty during her visit.
How is power used to protect privilege? How do non-dominant groups gain leverage in social and organizational spaces? How do workplaces reproduce and redress inequality? Prof. Pierce's talk on Thursday will focus on the white backlash against affirmative action.
Grinnell College Center for the Humanities Booktalk: Judith Butler's Gender Trouble
Friday, October 12, 2012, 12p in BCA 152
The Humanities Center will present a new series of events entitled *Booktalk* 2-3 times each semester. This will be a panel of three short presentations on a particularly influential work, creative work, or a critical/theoretical text that has been used extensively in teaching or scholarship. The series will consider books that have been re-visited, reconsidered, or had a continuing presence in scholarly and creative worlds.
Presenters:
Terri Geller assistant professor of English
Vanessa Lyon assistant professor of Art
Alan Schrift professor of Philosophy
Three GWSS affiliated faculty, listed above, will make short presentations on Butler's highly influential work. This event is free and open to the public.
"What's in a Word? Ambiguity in the College Hookup Culture"
Friday, October 5, 2012, 12p-1p in ARH 102
Gender, Women's, and Sexuality Studies invites you to a lunch-time talk by Professor Danielle Currier (Department of Sociology, Randolph College) Grinnell Class of 1987 on "What's in a Word? Ambiguity in the College Hookup Culture."
Image Courtesy of Randolph College
Hooking up is a term commonly used among high school and college students, on television talk and call-in radio shows, in popular media, and in academic literature to refer to some sort of sexual activity between two people who are not in a committed romantic relationship. Despite the apparent ubiquity of hookups, there is an underlying ambiguity to the term. When someone says a "hookup" has occurred, there is no clarity about what happened between the two people unless specific details are offered.
In this talk, Dr. Currier will address the concept of "strategic ambiguity" - the intentionally vague use of the word "hookup" to apply to almost any kind of sexual activity. In the hookup culture, this ambiguity helps women protect aspects of "femininity" and men protect aspects of "masculinity."
Using interview and survey data, Dr. Currier will address questions like: "What is a hookup?" "Who engages in hookups?" "How do men and women experience and interpret hookups differently?" "Are there differences between heterosexual and LGBT participants in the hookup culture?"
Dr. Danielle M. Currier (GC class of 1987) is an Assistant Professor of Sociology at Randolph College in Lynchburg VA. Her teaching and research specializations include: the social construction of gender and sexuality; gender and sports; violence against women; and sociology of the family.
Nailed: Race, Gender and Immigration in Body Labor
Thursday, September, 27th, 2012, 4:15p in JRC 101

Gender, Women's, and Sexuality Studies is pleased to announce a talk by Professor Miliann Kang (University of Massachusetts, Amherst) entitled "Nailed: Race, Gender and Immigration in Body Labor"
Image Courtesy of University of Massachusetts, Amherst
Professor Kang is a feminist sociologist who studies labor. Her most recent project The Managed Hand (University of California, 2011) won five prestigious book awards for excellence. Drawing from rich and compelling interviews, Miliann Kang takes us inside the nail industry, asking such questions as: Why have nail salons become so popular? Why do so many Asian women, and Korean women in particular, provide these services? Kang discovers multiple motivations for the manicure-from the pampering of white middle class women to the artistic self-expression of working class African American women to the mass consumption of body-related services. Contrary to notions of beauty service establishments as spaces for building community among women, The Managed Hand finds that while tentative and fragile solidarities can emerge across the manicure table, they generally give way to even more powerful divisions of race, class, and immigration.
"Pussy Riot" Lunch Discussion
Thursday, September 27th, 2012, 12p-1p in JCC Conference Room

This event is sponsored in conjunction with Religious Studies' Gates Lecture on Religion and Film by Professor Castelli, Wednesday, September 26, 8 p.m. in JRC 101.

Image Courtesy of Barnard College
Curious why Pussy Riot decided to perform their song "Virgin Mary, Put Putin Away" in a church? Why the chorus of the song is "Virgin Mary, Mother of God, become a feminist/become a feminist/become a feminist?" Please join Elizabeth Castelli, the Department of Religious Studies, and Gender, Women's, and Sexuality Studies for a lunch discussion on "The Future of the Study of Gender and Religion in the Age of Pussy Riot."
Reading from Iconic: Decoding Images of the Revolutionary Black Woman
Friday, September 14th, 2012, 4:15p in JRC 101
Grinnell's Gender, Women's, and Sexuality Studies Program is delighted to celebrate the publication of Lakesia Johnson's Iconic: Decoding Images of the Revolutionary Black Woman (Baylor University Press, 2012). Prof. Johnson will read from Iconic, as well as sign books.
Angela Davis, Pam Grier, Alice Walker, Michelle Obama. Revolutionary black women have evoked strong reaction throughout American history. Magazines, political campaigns, music, television, and movies have relied upon deep-seated archetypes and habitually cast strong, countercultural black women as mammies and sexual objects. In ICONIC Lakesia Johnson explores how this belittling imagery is imposed by American media, revealing an immense cultural fear of black women's power and potential.
But the media does not have the last word. Johnson chronicles how strong black women—truly revolutionary black women—have nonetheless taken control of their own imaging despite consistent negative characterizations. Through their speech, demeanor, fashion, and social relationships, women from Sojourner Truth to Michelle Obama have counteracted these negative depictions. With ingenuity, fortitude, and focus on the greater good, these revolutionary women transformed the cultural images of themselves and, simultaneously, the images of American black women as a whole.
Seamlessly weaving together role models of past and present, from women in politics to artists and musicians, Johnson eloquently demonstrates how the revolutionary black woman in many public forums has been—and continues to be—a central figure in challenging the status quo, correcting American prejudices, and changing long-standing social injustices.
Talk on Contemporary British Feminism and Cultural Activism
Thursday September 6, 2012, 4:15p in JRC 101
Gender, Women's, and Sexuality Studies (GWSS) invites you to a talk by Professor Kristin Aune, a British sociologist who is visiting Grinnell College from the University of Derby in the United Kingdom. Professor Aune is currently teaching a short course on Contemporary British Feminism, and she is the author of Reclaiming the F Word: The New Feminist Movement, is a study of third wave feminists in the U.K. (Zed Books, 2010). All are welcome, and refreshments served.
Image Courtesy of University of Derby
Since the start of the new millennium in the UK, an array of new feminist activities – national networks, issue-specific campaigns, local groups, festivals, magazines and blogs – have been formed by a new group of mostly younger women and men. Cultural activism is central to this new feminist movement, with popular culture singled out as one of several key areas requiring feminist intervention. Drawing on research conducted for the book Reclaiming the F Word: The New Feminist Movement, including a survey of nearly 1,300 feminists, the talk will discuss attitudes to cultural activism and explore the variety of forms of activism people are engaging with.
Panel on Pussy Riot, Russian Feminist Activist Group
Monday September 3rd, 2012, 4:15p in JRC 101

Image courtesy of Wikimedia Foundation
Grinnell College faculty members Ed Cohn (history) Astrid Henry (GWSS), Kelly Herold (Russian), and Danielle Lussier (Political Science) will discuss the recent trial and conviction of the three members of the feminist punk collective Pussy Riot. The women received sentences of two years in prison for their controversial and unsanctioned performance of a "punk prayer" to remove Putin from power in Moscow's Church of Christ the Savior. Refreshments will be served. Co-sponsored by the Russian department and the Concentration in Russian, Central, and Eastern European Studies.