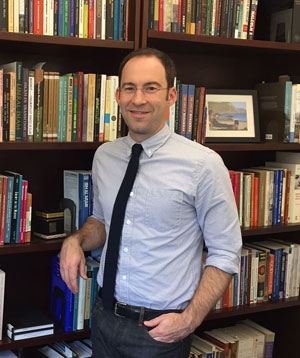 Greetings! I am very proud to direct the Center for the Humanities at Grinnell.
We are pretty unique among centers at small liberal arts colleges, itself a group small in number, in that we support faculty scholarship, cosponsor events across campus, support community organizations, and put on our own slate of programming each year.
As such, the Center is evidence of Grinnell's incredible commitment to the humanities as a crucial component of a liberal arts education.
We are always looking to partner with others to show just how valuable the humanities are to our community. Please be in touch if you would like the Center to partner on event. We hope to see you at our gatherings and events throughout the year! 
Connect to the humanities with research and scholarship, interdisciplinary studies, and more.
Theme 2017-18: The Politics of Human Thriving
What does it mean to thrive as a human being? The ways that communities engage and answer this question—and the power dynamics that influence these processes—differ over time and across cultural settings. Yet the question itself occupies a privileged place in the human imagination. In 2017-18, the Center for the Humanities will provide opportunities to consider the politics of and around human thriving. Our guests will speak to a range of issues, including race, gender, sexual violence, belonging, and activism.
The Center is also sponsoring a year-long Humanities-Social Studies seminar around the annual theme, HUM/SST 295-01: The Politics of Human Thriving. Participants will read and discuss the work of the Center's guests both before and after the visit and will have the opportunity to visit with the speakers while they are on campus. Topics throughout the year will include belongingness, sexual violence, race, gender, and the intersection of arts and activism. 
The seminar is open to all members of the Grinnell College community. Student participants will earn two credits per semester. Participation in one or both semesters of the course is possible.
Questions should be directed to Professor Elfenbein.