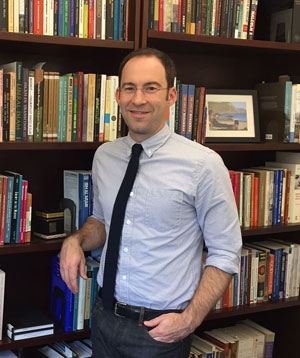 Greetings! I am very proud to direct the Center for the Humanities at Grinnell.
We are pretty unique among centers at small liberal arts colleges, itself a group small in number, in that we support faculty scholarship, cosponsor events across campus, support community organizations, and put on our own slate of programming each year.
As such, the Center is evidence of Grinnell's incredible commitment to the humanities as a crucial component of a liberal arts education.
We are always looking to partner with others to show just how valuable the humanities are to our community. Please be in touch if you would like the Center to partner on event. We hope to see you at our gatherings and events throughout the year! 
Connect to the humanities with research and scholarship, interdisciplinary studies, and more.
Theme 2016-17: Rethinking Global Cultures
In this year's speaker series, we will explore the work of scholars who have reconceptualized cultures on a global dimension, giving us a new perspective on intellectual borrowings, geographic roamings, transfer and exchange of knowledge, relationships of power, and the less known lives of communities, societies, and marginal groups.
Upcoming Events
April 5, Mechanics of Scholarship, 4:15 p.m., Solera, downtown (For Faculty only)

Good Company: Using Student Researchers Effectively in the Humanities

April 5, 7:30 p.m., Rosenfield Center, Room 101, Tilly Woodward: "Time and the Beauty of Small Things"

April 11, 7:30 p.m., Rosenfield Center, Room 101, "Can the Muslim Speak?"

Khurram Hussain, Assistant Professor of Religion Studies, Lehigh University

May 3, Mechanics of Scholarship, 4:15 p.m., Solera, downtown (For Faculty only)

Approaches, Apps, and Organizing Complexity in our Writing

May 12, All Faculty Reception, 4:30 - 6:30 p.m., Grinnell Golf Course