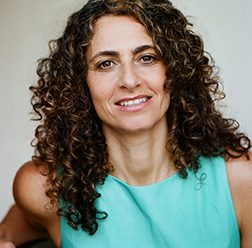 Dr. Daphne Miller, a family physician, writer, and associate professor of family medicine at the University of California, San Francisco, will discuss "Farmacology: Total Health from the Ground Up" at 7:30 p.m. Thursday, March 10, in Joe Rosenfield '25 Center, Room 101.
She will also lead a roundtable discussion about health professions, alternative medicine, and diet at 4 p.m.  in Bucksbaum Center for the Arts, Room 152. Both events are free and open to the public.
Miller will use her latest book, Farmacology: What Innovative Family Farming Can Teach Us About Health and Healing, to frame her discussion of family farms. Her lecture will cover all the aspects of farming — from seed choice to soil management — that have a direct and powerful impact on health.
Bridging the traditional divide between agriculture and medicine, Miller will share lessons learned from inspiring farmers and biomedical researchers as she weaves their insights and discoveries, along with stories from her patients, into the narrative.
A practicing family physician, Miller is also a leading scholar on health ecology. Her writings in the field have been published in The Washington Post, The New York Times, Vogue, Orion Magazine, Yes! Magazine, Food and Wine, The Guardian, and Harvard Medical Magazine.
Miller has received numerous honors for her achievements in health ecology, including fellowships at the University of California San Francisco, funded by the National Institute of Health, and at the Berkeley Food Institute. She also serves on the boards of a number of non-profits, including Institute of the Golden Gate, Education Outside, Mandela Marketplace, and the Edible Schoolyard Foundation.
Sponsoring this event are the Grinnell College Office of the President; Center for Prairie Studies; Rosenfield Program in Public Affairs, International Relations, and Human Rights; Office of Community Enhancement and Engagement; Wellness Program; Chaplain's Office; Student Environmental Committee; and the Student Government Association.
Grinnell welcomes and encourages the participation of people with disabilities. Rosenfield Center has accessible parking in the lot to the east. Room 101 is equipped with an induction hearing loop system.  You can request accommodations from the event sponsor or Conference Operations and Events.