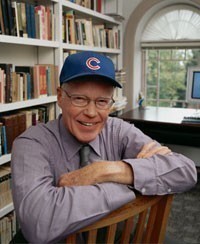 In mid-September of the ill-fated "Bartman" play-off year, 2003, I wrote the following:
I'm a rational human being. Right? Wrong! I'm a Chicago Cubs fan. I'm also a college history professor and a former college president, but that hasn't insulated me from the pathology of the die-hard Cubs fan. My office is adorned with the portrait of a curmudgeonly octogenarian photographed against the Wrigley Field ivy, with the caption, 'Waiting for a pennant.' It's been a long wait! The Cubs haven't been in the World Series since the talent-starved war years (1945) and haven't won the series since 1908, the longest draught of any major league sports franchise. As the late sportscaster, Jack Brickhouse commented, 'Any team can have a bad century.' You have to be missing a cog to be devoted to such a team, and yet there are millions of us - by no means all in Chicago.
It wasn't always that way. I began life as a perfectly rational St. Louis Cardinals fan. Then, in 1947, my family moved to the Chicago area, and I started my long slide toward the Cubs. The clincher was when the Cubs' shortstop, Roy Smalley (famous mostly for being Ernie Banks' immediate predecessor), who had been my older brother's playmate in Springfield, Mo., occasionally came to our house for dinner. The presence of the Cubs' shortstop in our home and the fact that I could actually talk baseball with him sealed my fate. My life of suffering had begun.
A Profound Attraction
It's silly to suffer over a baseball team - I never even played the game. I was a runner, not a batter, catcher, or thrower. Yet, the beauty of what the players do on the field with their monumental skills has asserted its attraction, and along with that attraction has come a profound emotional commitment, one that I cannot control. That commitment led me to purchase a share of Cubs stock in 1969, the year of their awful collapse in the face of the Mets remarkable charge. Remember the jokes? "The Cubs should move to the Philippines where they could be called the Manila Folders."
I clung to that share until the 1980s when the Wrigley family sold to the Chicago Tribune. All stockholders were obliged to sell, including Joe Rosenfield '25, who was the chief minority stockholder. I was president of Grinnell College, and Joe was the heart and soul of the College's Board of Trustees. I knew that Joe would give the proceeds from his sale of over 300 shares to the College, and I also knew that Joe would never let Grinnell name anything for him. I therefore suggested that we use those funds to create a Cubs Room in our Physical Education Complex. Joe jumped at the chance, with the result that this liberal arts college in central Iowa now boasts a room devoted to a professional baseball team.
Former Cubs shortstop and Hall of Famer Ernie Banks dedicated the room, and his exuberant cheering that evening spurred Grinnell's basketball team to its only victory of the season. He leapt up and shouted, "You've got to believe," with about five minutes remaining, and the team climbed out of a five-point deficit to win by a couple.
Agony and Ecstasy
How does my pathology affect me? Sometimes I wake up at night, jolted into thoughts about the previous day's game. If we won, I happily return to my sleep. If we lost, I toss and turn. My wife and I don't have cable or satellite TV; I would waste too much time watching the Cubs. However, I listen to the radio, but often turn the game off when the Cubs are in the field, since that is usually when bad things happen. If the Cubs are ahead, I frequently tune out the last half of the ninth inning, as I can't bear the agony of the all-too-frequent collapse. [I add, retrospectively, that in the "Bartman" game in the 2003 National League Championship Series against the Marlins, as soon as he interfered with Moises Alou's effort to catch that pop foul, I switched off the game. I knew that the Cubs were on the threshold of disaster, and I couldn't bear to watch.] The litany of quirks and superstitions could go on, but you get the idea.
I have a friend and colleague who has been a Yankee fan from birth. He understands and shares my pathology. Of course, his obsession is rewarded with victory. Recently, he has acquired an interest in the Cubs, largely through our mutual attraction to Iowa Cubs games at marvelously intimate Principal Park in Des Moines. Having dined sumptuously on the Yankees, he also bottom-feeds with the Cubs. His obsessions, however, remain focused on the Yankees, and it has been a revelation to observe that die-hard fans of successful teams suffer almost as much as those who support losers.
The Cubs are in a pennant race as I write (have I jinxed them by saying too much?). I can't bring myself to believe that they will actually make the playoffs, but in the midst of my anxiety, I am grateful for the moments of ecstasy that leaven my prolonged agony.
---
That was my "take" during the pennant race of 2003. It may have been harsh to label my obsession with the Cubs as pathology; I think not. Many who read this essay will identify with my quirks and in more sober moments recognize them as symptoms of a species of disease. Since I have observed these symptoms in some of my colleagues at Grinnell College, I decided to interview them to see if I could determine what it is that draws otherwise rational human beings into the always fascinating and sometimes disturbing universe of baseball fandom.
None of the professors with whom I spoke is a Cubs fan, with the possible exception of my Yankee fan friend, Ira Strauber, who shares an interest in the Cubs through frequent trips to see the Triple A Iowa team. Each is a fan in his or her unique way, and all are passionate devotees of a game that they love and a team that for a variety of reasons has won their allegiance. In fact, most say that they were drawn to their love of the game through initial attraction to a particular team.
I have already alluded to Ira Strauber, the Yankee fan who bottom-feeds with the Cubs. A professor of political science, he is one of the intellectual leaders of our faculty. Erik Simpson, a Giants fan, is a young English professor who studies baseball with the same passion he brings to Victorian literature. In fact, Grinnell's English professors seem to be peculiarly smitten, as Mike Cavanagh, a Milton scholar, carries a life-long attachment to the Dodgers, and Steve Andrews combines his expertise in American literature with devotion to the Mariners. His wife, Sheree, the College's director of residence life, is, if anything, even more committed to the Mariners. Chuck Jepsen, a brilliant mathematician, luxuriates with the Cardinals, and Tom Marshall, a retired vice-president of development, recently triumphed with the Red Sox. Don Howig, the lone non-academic, is also unique among the interviewees in having played professional baseball, mostly in the Cubs organization. The majority of the interviewees are over 60, though there is representation from a younger generation,
Even Yankees Fans Suffer
As we spoke, in his office, Ira Strauber snatched a glove from his desk, the artifact of his childhood in New York City. He told me that baseball is too much a part of who he is to think of himself apart from the game. His older sister always identifies him with baseball, and as the oldest son in a Jewish family, he and his father monopolized dinner table conversation with a baseball version of Talmudic instruction.
When he was growing up in the 1950s, baseball was in the fiber of New York. He played a lot of stickball and constantly listened to games on the radio. To this day, he prefers radio to television, though he admits to succumbing recently to HDTV, the better to watch baseball; however, often he turns off the sound. Though an intellectual's intellectual, he readily admits to a mainly emotional involvement with baseball. The game is rooted in his being; he will watch or listen to almost any game if given the chance, and he will care about the outcome.
He subscribes to Internet baseball services so that he can check on the progress of games from his office, and when the Yankees are in the playoffs and World Series, he leaves the room when they are in the field. Furthermore, he will never sit during an important game. He confesses, not without some pride, that his graduate school daughter, Alison, shares his obsessions.
Ira's loyalty is to the team more than specific players, which helps him to accommodate the comings and goings that accompany the contemporary game. This focus even makes the performance enhancement scandals easier to bear. When he attends games, just being in the atmosphere of the ballpark is almost sufficient so that the game itself becomes a bonus.
Finally, in response to a question about the aesthetics of the game, he concentrates on its difficulty, elegance, and deliberateness. "It's like life. If you succeed one-third of the time, you are a success." Speaking of the pitcher/batter confrontation, which is the best aspect of televised baseball, he sees another parallel with his view of life. The pitcher has to keep throwing, repetition after repetition - just like life. You have to do your best under "horrendous circumstances." Baseball reassures him that life is difficult, and the best you can do, quite simply, is the best you can do.
The Intellectual Approach
Erik Simpson, the Victorian scholar, is in many respects the mirror image of Ira. Both were introduced to baseball through their fathers, and Erik followed in his father's footsteps as an English professor. His father grew up watching the San Francisco Seals, switching his allegiance to the Giants when they came to town, an allegiance that Erik has inherited. So much was Erik's baseball life connected to his father that his first remembered act of rebellion was, at age 6, to have listed all 26 major league teams with the Yankees at the top and the Giants at the bottom.
In fact, this juvenile list is characteristic of Erik's approach to the game. Much of it has been an intellectual exercise, and he has participated in several Internet chat rooms and fantasy baseball leagues. While he has found immeasurable satisfaction in these analytical exercises, he also is capable of reaching a threshold of boredom. You can carry "Billy Ball" only so far, and fantasy baseball also has its limits, even though players and statistics change from season to season.
One of the consequences of his intellectual approach is that it tends to detach him from team allegiance. He has found that he has watched less and less baseball since he has "gotten it." His fascination with the game has diminished as his intellectual curiosity has been satisfied.
He has a young son, however, and Pete's fascination with balls is bringing Erik back to simply being a fan. He and his son will bond in the enjoyment of traveling to Des Moines to watch the Iowa Cubs, continuing a family tradition of fathers, sons, and baseball.
These thoughts remind Erik of the emotional high of attending Phillies games when he was a graduate student at Penn. He would go to Veterans Stadium, sit high in the upper deck, and do " really good school work of a certain level" with one eye on the game. It was an environment in which he felt completely at home.
Reflecting on his intellectual approach, Erik concludes that it is easier to precisely analyze baseball than football,. In baseball, you can isolate individual performance. For example, you can determine with some assurance exactly how good Derek Lee is, but not Peyton Manning. "Baseball is perfectly set up for geeks," Erik says. It makes baseball more intellectually exciting, but it runs the risk of diminishing interest once one "figures it out."
A Typical Dodger Desire
Mike Cavanagh, the Miltonian and Dodger fan, is another of Grinnell's English department/baseball phalanx. He grew up in the Bay Area watching the Seals, with occasional forays to the Sacramento Solons. Donald Cline's Seals broadcasts "hooked him," but the core of his passion for baseball was bestowed by his father, who grew up in Brooklyn as a Dodger fan. Mike's inherited early passion for the Dodgers was diluted when the Giants moved to San Francisco, but in the 1970s, the dilution was purified, so today he has the typical Dodger desire to crush the Giants. The bond with his father through baseball was key to their lives together, and today, Mike and his grown children have recreated the father/son bond with annual reunions at a baseball game. Recently, he returned from his son's wedding in Florida, and guess what? They attended a Dodger spring training game.
Like most with whom I talked, Mike's allegiance is far more to a team than to particular players - more even than to the game itself. This partisanship is what sustains his interest in baseball, as his commitment is much more emotional than intellectual.
Soaking up the Atmosphere
The third English professor, Steve Andrews, who along with his wife Sheree, came to Grinnell from the Seattle area, where they spent countless Sunday afternoons with a picnic lunch and the newspaper in the upper left field deck at Mariners games in the Kingdome. They would arrive hours before the game to soak up the atmosphere while munching and reading. Sheree, who came to love the game through her father, describes herself as a relational person who is particularly drawn to individual players and their personalities. She once stood in line with her children for six hours to get A-Rod's autograph.
Steve, on the other hand, played amateur baseball and is a student of the game. In fact, he has developed a course on baseball in Grinnell's free-ranging First-Year Tutorial program. From the Cubs perspective, it is interesting that only 2 of the 12 students in his last tutorial were deeply committed partisans - one a Cubs fan and the other a Red Sox fan. Most of these young students don't have regional attachments to a team in the same way as their elders. Broad access through TV, satellite radio, and the Internet transcends the old regional boundaries. Furthermore, these students have grown up in the era of free agency, so the lack of player loyalty to a particular franchise has been translated to their attitude as fans.
As is the case with everyone with whom I spoke, Steve is "blown away" by the sight of the field bursting into view as one leaves the concourse to emerge at the top of the stairs. In his case at the new Safeco Field, the city of Seattle fills the background. For those of us who love Wrigley Field, it's the neighborhood apartments with their rooftop seating, backed by distant high-rises that create the backdrop for grass, brick, and ivy. It's an indelible experience.
A Mathematical Approach
Chuck Jepsen, the mathematician, has also taught a First-Year Tutorial on baseball, with special emphasis on statistics. His life-long attachment to the Cardinals is the result of listening to broadcasts with his father and brother on their northeast Iowa farm. Chuck has a strong emotional attachment to the game and to the Cardinals. "I wouldn't care as much about the game if I didn't care passionately who wins," he says. There have been years when he was angry with the team, but he couldn't help rooting for them (Cubs fans can resonate with that).
Though he doesn't buy the notion that baseball is more cerebral than football, he is fascinated with its intellectual characteristics. He loves Tony LaRussa's description of managerial success: putting the other manager in a situation he doesn't want to be in and forcing him to make a decision he doesn't want to make. His mathematical mind appreciates the geometry of the field as well as the absence of a clock. Unlike football and basketball, the worst team frequently can beat the best team, and the line between success and failure is a thin one. Anticipating pitches is a paradigm of the hundreds of isolated but ultimately connected events that make up each game. Finally, size matters less in baseball than most professional sports. David Eckstein rivals Albert Pujos in his importance to the Cardinals.
A Discouraging Word
Even though recently he was rewarded with a World Series championship, Tom Marshall '55, the Red Sox fan and retired College vice-president for development, is discouraged with the present state of the game. His attachment is definitely emotional, built during his youth in Iowa, when he bonded with his father while attending Cedar Rapids Raiders games in the late 1940s. After college, he moved to Connecticut, where he fell victim to New England's love affair with the Red Sox. Johnny Damon's switch to the hated Yankees epitomizes what is wrong with the contemporary game, Tom says. His attachment is to players as much as the team, which makes the era of free agency particularly disconcerting. Jim Rice is his model, and very few like Rice are left in the game.
What remains unsullied for him are the ballparks, their physical beauty, the crowds, the national anthem, and the hotdogs.
Only a Game?
Finally, I come to Don Howig, not connected to the College except for a stint as assistant softball coach, and the only one of the interviewees who has played professional baseball. He spent most of his career in the Cubs system, but never made it to the majors, partly because he was not quite talented enough, but also because in that era a prospect who placed a college education on an equal footing with baseball was not considered sufficiently committed to the game.
Don grew up in St. Louis watching both the Cardinals and Browns, thanks to 50-cent Knot Hole Gang bleacher seats. As an aspiring player before televised games, it was essential actually to watch professional baseball. When he moved to Albuquerque, N.M., he was transformed from being a very good high school player to being one of the best two players in the state. He attributes this discrepancy to the availability of major league baseball in St. Louis, but not New Mexico.
WGN radio and living in Iowa with convenient access to the Iowa Cubs have made Don a die-hard Cubs fan. It may be a comment on the fragility of team loyalty among players that Don's loyalty derives much more from regional exposure than playing in the Cubs minor league system. For the player it is partially a business, for the fan, it's "only" a game.
Bonding and Baseball
The common threads among these interviews bind together the generations, forging a tie between those in their 60s and 70s with those in their 40s. Almost all spoke warmly of bonding with their fathers through baseball. Almost without exception, they prefer listening to games on the radio to watching them on television. Maybe this is platonic idealism, but much more obvious is the memory of listening to games as children (often under the bedcovers).
Also, possibly as a result of childhood beginnings, emotional attachment almost always exceeds the intellectual appeal of the game. The beauty and geometry of the park and diamond are magnetic attractions, with almost all my sources indicating that just being at the park is sufficient, even without the added bonus of a game. The statistical side of the game and its daily representation in the box scores is one of baseball's fascinations, though in no case was it primary.
Finally, though all would be classified as sports fans, each puts baseball well ahead of any other sport, and that includes those who played the game and those who did not.
---
Why the Cubs?
I wrote this essay soon after my wife Sue and I returned to Iowa from Arizona, where we watched the Cubs play two spring training games: one, against the Rangers, in the cold and rain at Mesa's Hohokam Park; the other on a sunny day with the Diamondbacks in Tucson Electric Park, In both cases, the Cubs game outsold all other games that day in the Cactus League. Cubs memorabilia were ubiquitous, not just at Hohokam, but also at the Diamondbacks' park in Tucson, visual testimony to the fact that the Cubs are holders of the spring training attendance record for all of major league baseball.
What is it that possesses Cubs fan? Are we masochists, or just loyal through thick and thin (mostly thin)? Why are we everywhere, and why does our loyalty seem unaffected by failure? Are we simply obsessed with a loveable loser? Would we become disillusioned and churlish if our team won the World Series (or even played in it) and then fell once again into losing ways? Are Cubs fans unique only because we remain loyal to a team with the longest history of losing?
In fact, there are multiple characteristics of the franchise that uniquely have conditioned Cubs fans. Though it has been altered in the expansion era, for most of their history, the Cubs were the team of the north central United States. In fact, the Cubs and Cardinals pretty much had the trans-Mississippi west to themselves until the late 1950s. The breadth of their reach is difficult to exaggerate. To a Midwesterner, their broadcasts were ubiquitous and when many in the pre-expansion era moved to the West and Southwest to work or retire, especially after World War II, they transported their Midwestern loyalties.
What about the long tradition of day games at Wrigley Field? Ultimately, this became a dinosaur slain by the power of the television networks. The steady diet of day games has been blamed for Cubs losses, on the assumption that games in the heat of the day unduly sapped player energy. Of course, others have argued that the rhythm of regular day games helped players to sleep better, hence restoring team energy. What is certain is that day games are family friendly and the high pitch of crowd noise at Wrigley is audible testimony to the presence of large numbers of children - and children build the fan base. This effect may have been somewhat blunted in the past decade as constant sell-outs and consequent ticket broker inflation have priced many families and children out of the market.
Beauty at the Ballpark
My interviewees all remarked on the powerful attraction of ballparks. For Cubs fans, this is particularly acute. As the second oldest big league park and as one of its most beautiful, Wrigley Field is a primary factor in Cubs loyalty. Were the team to move to a new park, it's likely that some of the mystique would be lost. Wrigley also is the neighborhood park par excellence (a reason given by Phil Wrigley for his refusal to play night games). There is no parking lot for fans, so driving to games becomes a major logistical exercise. The El is a lifesaver, and integral to the experience of many. The fact that Wrigleyville is a safe neighborhood also plays its part in incubating fans.
Chicago is the Windy City, and Wrigley Field, though no Candlestick, is a blustery ballpark. Blowing out-blowing in, is a constant theme, as the wind switches from day-to-day or even inning-to-inning. Is Wrigley a home run hitters' paradise or a source of slugger frustration? Is it a pitcher's graveyard or a haven? It all depends on the wind, and the discussions about the ratio of blowing-in to blowing-out days have no end. The wind shifts, but, for example, the thinness of mile-high air of Coors Field does not. Now that Candlestick Park is no more, Wrigley Field is almost unique in the importance of this very important meteorological phenomenon.
Wind of a Different Sort
Every team has its beloved broadcasters, and Harry Carey, Jack Brickhouse, Vince Lloyd, Steve Stone, Pat Hewes, and Ron Santo have contributed substantially to the Cubs mystique. Without broadcasts, no team would come close to having its current fan base, and Cubs broadcasters have been particularly important - in part because of the power of WGN and the early policy of televising all Cubs home games. The personality of Cubs broadcasters and the sheer megawatt power of clear channel WGN have combined as unusually powerful purveyors of the Chicago Cubs.
More knowledgeable commentators than I will provide alternative reasons for the unusual number and loyalty of Cubs fans. At this point, I summarize by saying that we follow a historic franchise in an important city and, yes, we take a perverse pride in our almost pathological devotion to a team that has not won a championship for nearly a century.
Originally published as a web extra for The Grinnell Magazine, Fall 2006