Grinnell, IA -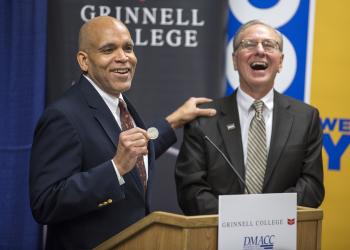 Grinnell College and Des Moines Area Community College (DMACC) have entered into an agreement to encourage qualified DMACC students to consider transferring to the national, private, four-year, liberal arts college in Central Iowa. Grinnell College President Raynard S. Kington and DMACC President Robert Denson signed the agreement on November 1 at the DMACC Urban Campus in Des Moines.
"Grinnell's mission includes assisting those who may choose a non-traditional path toward a four-year degree," said Kington. "We have been looking for ways to encourage more Iowa students to consider Grinnell College, and we are particularly pleased to partner with DMACC to provide this opportunity to high-achieving students."
The agreement, designed for students interested in completing a B.A. degree at Grinnell, is open to DMACC students who are pursuing or completing an associate's degree. Interested students may participate in a special preview program, which offers an up-close look at the college, before going through Grinnell's regular application process.
"We recognize the importance of access to education and the need for students to achieve their academic potential," said Denson. "Grinnell's reputation as a top-ranked educational institution means that DMACC students have a new path into one of the best four-year colleges in the nation."
This agreement represents the first-ever partnership between Grinnell and a two-year college. "We're excited and honored to collaborate with Grinnell College. With our large and diverse enrollment, both institutions will benefit," added Denson.
This agreement is part of a national effort to link prestigious four-year institutions and two-year colleges, but unique to the Midwest. Cornell University in Ithaca, N.Y., Bucknell University in Lewisburg, Pa., and Mount Holyoke College in South Hadley, Mass. are early adopters of this strategy to encourage greater access to higher education.
Representatives from both institutions were on hand at the November 1 signing to respond to questions from students and the media about details of the articulation agreement. Program inquiries should be addressed to Brad Spielman, DMACC academic advisor, blspielman@dmacc.edu, or Grinnell registrar Cheryl Chase,chaseche@grinnell.edu.
Founded in 1846, Grinnell College is a highly selective, residential, liberal arts college that enrolls 1,600 students from nearly every state and as many other countries. Grinnell has a long history of curricular innovation and thoughtful progressivism. The college awarded the B.A. degree to a woman in 1857 and to an African American in 1871, established the nation's first major in political science in 1883, and in 1970 pioneered an individually advised curriculum that allows students to tailor their own education in collaboration with their faculty advisers. Grinnell is a leader in ensuring access to the nation's most talented students from all backgrounds, and Grinnell students graduate with one of the lowest levels of debt in the U.S.
With more than 75,000 credit and non-credit students, DMACC is Iowa's largest two-year college and the 15th fastest growing nationally in its category.
Grinnell College President, Raynard Kington (left) laughs with DMACC President, Rob Denson (right), at the signing of the Grinnell College, DMACC Transfer Agreement. Photo courtesy of Justin Hayworth, communications