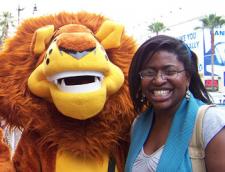 For Grinnell's international students, Iowa offers a unique but limited slice of the American experience. Last summer, two international students were offered a chance to explore the United States thanks to the Merle Fischlowitz '53 International Student Travel Fellowship.
Established in 2001 by Fischlowitz and his wife Teresa, the annual fellowship provides funding for two international students to explore the country for about three weeks over summer break. The students are expected to study a unique aspect of American culture and make a presentation on campus after their return. Last summer's fellows, Wadzanai Motsi '12 and Gizeh Becerra Becerra '10, embarked on trips that revealed very different features of the country.
Motsi, originally from Zimbabwe, chose to study gospel music in America. She traveled to Atlanta, Ga.; New Orleans, La.; Nashville, Tenn.; San Diego, Calif.; Los Angeles, Calif.; New Haven, Conn., and New York City, N.Y.
Throughout her travels, Motsi was able to listen to gospel music and talk to the musicians creating it. Her favorite city? "I loved Nashville the best," she says. "I met some really incredible people there, and I like country music. So I got to go to all these places where people play music all day, and it was really fun."
Motsi saw aspects of American life she had not been fully aware of before coming to the country. "I saw a different face of poverty in the U.S. that most people [abroad] don't take into consideration when they think about the country," she says. "[It] was eye-opening."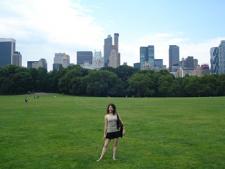 Rather than cities, Becerra studied the differences between state and national parks. After starting her journey in New York City, she first visited the Adirondacks in upstate New York and then Shenandoah National Park in Virginia.
Becerra, a political science and French major who grew up in Mexico, got the idea to examine U.S. parks while studying in Paris last spring. "The idea of actually going to national parks and [looking] into differences in conservation and culture came from my sustainable development class when I was studying abroad," she says. The class discussed the contrasts between French and German conservation, which Becerra found intriguing.
In her visits to U.S. parks, she noticed distinctive elements in the way Americans view their interaction with nature and the effect this has on our parks. "Mexican parks are just wild areas that are open to people, but there are no regulations and there's no respect for the area that you're in," she says. U.S. parks are more regulated, which Becerra believes is necessary to respect and preserve the natural areas.
Though this was the first extensive travel for either student in the United States, they each found reminders of their home countries. Motsi's trip began when she arrived at the Atlanta airport, where a collection of Zimbabwean sculptures greeted her, while Becerra was pleasantly surprised by the number of Spanish speakers in New York City. "It was kind of like being at home in a way," she says.
Perhaps finding that sense of "home" in the United States helps fulfill Fischlowitz's goal for the fellowship — to help students gain a greater understanding of the United States and its people.