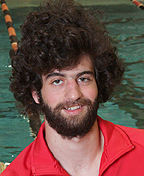 Nick Smith '10 (Amherst, Mass./Amherst Regional) has been named the Midwest Conference Men's Swimming and Diving Performer of the Week.
Smith dominated the diving events at last weekend's Grinnell College Invitational, placing first in both one- and three-meter diving with scores of 399.35 and 367.90. Both of those are MWC bests for the season and helped the Pioneers win the team title at the meet for the first time since 2005.
The Women's Performer of the Week is Becky Shaak of Lake Forest College.