Katrina Williams of Ames spent last week in Grinnell so that Vijay, her 13-year-old son, could participate in Grinnell College's first Coding for Social Good and Beyond summer day camp.
"When I learned that Vijay could spend a whole week learning coding at Grinnell, I seized the opportunity and signed him up," said Williams, an academic adviser in the aerospace engineering program at Iowa State University. "I'm just passionate about young people learning coding because coding is a way to put ideas into execution."
She and Vijay and his younger sister, who also wants to learn to code, stayed at the Carriage House to keep from traveling to Grinnell and back from Ames every day. Although Vijay wants to become a bestselling author instead of a computer scientist, he describes the camp as fun, adding that every day "You learn new stuff about computers and what you can do with them."
Filling a Gap in Iowa
Iowa does not provide enough summer coding camp opportunities for students in middle schools, particularly for students underrepresented in computing careers, according to Narren Brown, associate director of Grinnell's Center for Teaching, Learning and Assessment.
Iowa's lack of camps for this age group is a concern at a time when the National Academy of Science has recommended that every American be "fluent in information technology" to be successful citizens.
To fill the gap, Professor of Computer Science Samuel A. Rebelsky and Brown proposed a summer coding camp as a three-year pilot project.
They applied for and secured $144,000 over three years to support the camp from the College's Innovation Fund. Some of the funds go to students from Grinnell College and area community colleges who developed the curriculum in collaboration with Grinnell faculty and Grinnell College's Center for Teaching, Learning and Assessment.
The camp received the 2016 Governor's STEM Advisory Council's Seal of Approval, which recognizes the program for increasing student interest and achievement in science, technology, engineering and mathematics in Iowa.
The College's support brought the camp fee down to $25 and provided paychecks for the Grinnell and community college students who also served as counselors and advisers for the campers. Students could apply to have the fee waived so that cost was not a barrier to attending camp.
Elizabeth Zak '18 was one of the college students serving as a counselor. Zak is from Memphis, Tennessee, and has a double major in computer science and gender, women's and sexuality studies.
"This camp was a success," she says. "The college students learned a lot for the future and we believe the kids did as well. I hope that the campers' main takeaways were that coding is for everyone, and that even if they don't go into a career in computer science, they should should still learn how to code."
Focusing on Middle School Students
"We are working primarily with middle school students because this is a set of skills that they can and should develop at this age," Rebelsky says. "It's also an age in which they are figuring out what they enjoy and what they are good at. Over the long term, we hope that starting in middle school will impact groups of students who are traditionally underrepresented in computing."
Rebelsky maintains that learning to code empowers students, builds their skills in problem solving and gives them the excitement of creation.
"We hope that students take both hard and soft skills from this week of camp," he adds. "For example, they learn strategies for solving different kinds of problems and how to read and adapt existing programs. We also have the students work in pairs to build skills in collaboration and ask them to present their solutions to the class."
The campers worked on a series of projects, using the Processing programming language, designed at MIT as a language for artists. They say they especially enjoyed the challenge of writing programs to create their own album covers.
Besides concentrating on computers, the campers delved into many screen-free activities, such as scavenger hunts and a tour of the Faulconer Gallery, where they talked about how art can help people think differently. By the end of the week, campers were working collaboratively to create computer-generated artworks designed to address issues in society.
Coding for Social Good
Mezekerta Tesfay, 15, of Grinnell, and Newton resident Emma Lopez-Garcia, 11, dedicated their final project to raising awareness of the plight of endangered animals. "We decided to focus on elephants being hunted for their ivory tusks after we saw a piece at the Faulconer Gallery that describes how the melting of ice is endangering polar bears," Tesfay says.
"We found an online photo of a herd of elephants and used Processing to make the photo fade out to show elephants disappearing. We also learned to use motion so that the elephants would move across the screen when you pressed a certain key."
Tesfay says she assumed before going to camp that coding and computer science would be extremely hard — something she couldn't do herself.
"The things I did at camp were fun-based, rather than hard work," she says, "but I learned that problem solving is the key to coding correctly to get the results you want. I definitely want to do more work with coding."
Lopez-Garcia, Tesfay's partner on the elephant project, started coding before arriving at camp because she wants to get a head start on a career in animation. "I like how they explain the process of coding at camp and challenge you to try new things with it instead of just telling you what it is and what to do," she says.
Discovering the Power of Coding
Other students are equally enthusiastic about their experiences at camp.
"It combines learning and having fun at the same time," says Jessica Haines, 13, of Brooklyn. "I want to become a mechanical engineer and design rockets for NASA, so it's nice to learn about coding when I'm young so that I'll know how when I'm older."
"This camp helps you get started in coding and inspires you to learn more," adds Hans Larsson, 15, of Grinnell. "Even if you don't become a computer scientist, you've learned how to use computers better."
Rebelsky, Brown, and the research students will evaluate the outcomes of the camp so that lessons learned can be applied to enhance the program when it becomes a residential camp serving more middle school and high school students next summer.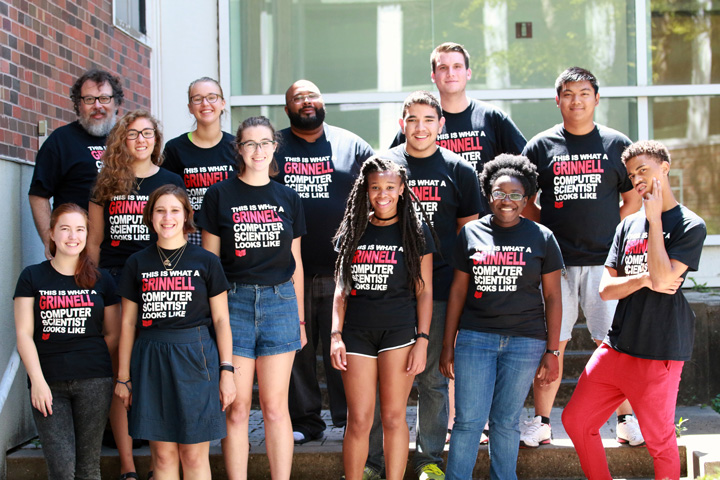 Camp founders Samuel A. Rebelsky and Narren Brown (back row, first and third from the left) pose for a photo with 11 Grinnell College and community college students who wrote the curriculum and served as counselors for Coding for Social Good and Beyond.