Grinnell College Libraries presents a book talk with Dr. Aysha Pollnitz on Friday, April 8, at 4:15 p.m. in Burling Lounge. Dr. Pollnitz, Assistant Professor of History, will discuss her book, Princely Education in Early Modern Britain, published by Cambridge University Press in May 2015. 
Princely Education in Early Modern Britain investigates one of the earliest attempts to use liberal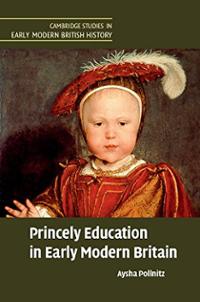 education to effect political reform in Europe.  More specifically, it considers the fortunes of a humanist campaign, led by Erasmus of Rotterdam (c.1466-1536), to deter European princes from vainglorious warfare by teaching them knowledge of scripture and classical literature.  Erasmus's prescriptions and curriculum had a particularly strong impact on the British isle, where humanist pedagogy transformed the upbringing of Tudor and Stuart princes between 1485 and 1649. The schooling of fifteenth-century princes had emphasized the sword but the education of Henry VIII and his successors prioritized the pen.  This shift in princely pedagogy played a critical and hitherto unappreciated role in reshaping the political and religious culture of early modern Britain.  Erasmus may have been intending to deter rulers from conquering additional territories but, in practice, his curriculum gave princes the skills and (inadvertently) the impetus to assert their supremacy over their subjects' souls. Ultimately, a mode of education which was meant to prevent over-mighty monarchy in Europe actually taught kings and queens to extend their authority over church and state. 
Aysha Pollnitz arrived at Grinnell College in August 2013 following research fellowships at Trinity College, Cambridge and the Folger Shakespeare Library, Washington DC. She has taught at the University of Cambridge, Georgetown University, and Rice University, where she served as a resident faculty associate at Baker College. Dr. Pollnitz teaches courses on medieval and early modern European history, British history, the history of political and religious thought, on the history of sex, gender, and family, on cultural encounters, on the transmission of knowledge, and on historical method and argument. She has advised undergraduate and graduate student research on topics in British, European, and intellectual history.
Grinnell College welcomes the participation of people with disabilities. If you plan to attend this event and need accommodation, please contact Burling Library as soon as possible to make your request.