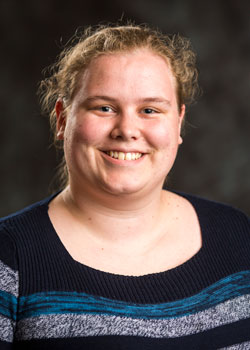 Lillian Webster '17 has received an honorable mention from the prestigious Barry Goldwater Scholarship and Excellence in Education Program. Majoring in mathematics and statistics, Webster is one of 256 honorable mentions, chosen from 1,150 applicants nationwide.
For her application, Webster, a resident of University City, Missouri, submitted a paper titled "Subword Complexes in Coexeter Groups." Last summer, she completed a Research Experience for Undergraduates focusing on algebraic combinatorics at the University of Minnesota, and her research resulted in a talk at the Nebraska Conference for Undergraduate Women in Mathematics in January 2016.
"Lillian has amazing creative insight, and is equally adept at working with both abstract concepts and detailed technical arguments," said Joseph Mileti, associate professor of mathematics at Grinnell. "She also communicates her ideas with a clarity and elegance rivaling most graduate students."
An active member of the Grinnell community, Webster is also a student in the Grinnell Careers in Education Professions Program. She has stage managed several productions for Dance Ensemble/ACTivate, including "Snow White Retracted" and "Once Upon a Time Splintered." In addition, she is a mentor for advanced mathematics courses. Webster spent the fall 2015 semester in Hungary as a participant in the Budapest Semesters in Mathematics program.
After graduating from Grinnell in May 2017, Webster plans to pursue a Ph.D. in mathematics, focusing on either algebra or combinatorics, and go on to teach at a college or university.
Congress established the Barry M. Goldwater Scholarship Program to encourage excellence in science and mathematics for American undergraduate students with excellent academic records and outstanding potential. Winners receive up to $7,500 toward tuition and other expenses for the academic year. Grinnell College students are frequent recipients of Goldwater honors, with six students being named Goldwater Scholars and six students receiving honorable mentions since 2010.