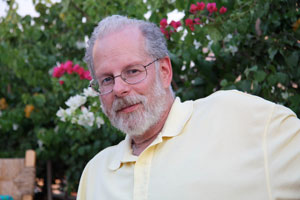 Larry Silver, Farquhar Professor of Art History at the University of Pennsylvania, will present a Scholars' Convocation, "Dutch Global Horizons," at 11 a.m. Thursday, April 28, in Joe Rosenfield '25 Center, Room 101. The event is free and open to the public.
Silver's presentation is part of Grinnell's Phi Beta Kappa Visiting Scholar Program. New members of Phi Beta Kappa will be announced at the beginning of the convocation.
Silver describes his presentation as an exploration of the imagery of the seaborne empire of the Netherlands during the Golden Age of the 17th century, when Dutch ships plied the oceans and established commercial and political links with bold Old World Asia and New World Latin America. He also notes that images of India and East Asia, as well as the short-lived Dutch colony in Brazil, permitted armchair travelers in Amsterdam to experience the globe as never before.
Silver, who received his bachelor's degree from the University of Chicago and his master's and doctoral degrees from Harvard University, is a specialist in painting and graphics of Northern Europe. He focuses primarily on works produced in Germany and the Netherlands during the era of Renaissance and Reformation. He has served as president of the College Art Association and the Historians of Netherlandish Art. He recently was honored with the University of Pennsylvania's Lindback Award for Teaching Excellence. 
His publications include Rubens, Velázquez, and the King of Spain, Rembrandt's Faith, Peasant Scenes and Landscapes, Hieronymus Bosch and a general survey, Art in History. He has organized a number of print exhibitions, among them Grand Scale: Monumental Prints in the Age of Dürer and Titian and Graven Images, dealing with professional engravers of the 16th-century Netherlands.
Grinnell College welcomes the participation of people with disabilities. Room 101 in the Rosenfield Center is equipped with an induction hearing loop system, which enables individuals with hearing aids set to T-Coil to hear the program. Accommodation requests may be made to Conference Operations and Events.