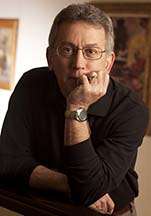 Jeffrey Hurwit, an internationally recognized expert on the Athenian Acropolis, will give a free, public lecture about sculptures on the Parthenon at 4:15 p.m. Thursday, April 21, in Joe Rosenfield '25 Center, Room 101. His talk is the 11th annual McKibben Lecture in Classical Studies, sponsored by the Department of Classics.
In "Helios Rising: The Sun, the Moon, and the Sea in the Sculptures of the Parthenon," Hurwit will share some of his current research on the art and architecture of the temple on the Athenian Acropolis.
Jeffrey Hurwit
Hurwit is the Philip H. Knight Professor Emeritus of History of Art and Architecture at the University of Oregon. He has published four books, one on the art and culture of early Greece, two on the Athenian Acropolis and, just this year, a book on Greek vase-painting titled "Artists and Signatures in Ancient Greece." He has been the recipient of numerous honors, including the Guggenheim Fellowship in 1987.
He is also a sought-after lecturer, holding the Martha S. Joukowsky Lectureship for the Archaeological Institute of America in 2000-01; the inaugural lectureship for the Dorothy Burr Thompson Memorial Lecture in 2003; and conducting several successful tours of Greece and the Mediterranean for the Smithsonian Institution.
The McKibben Lecture in Classical Studies
The McKibben Lecture in Classical Studies is sponsored by the Department of Classics and honors Bill and Betty McKibben, whose combined service to Grinnell College and to the greater Grinnell community totaled more than a century. 
Grinnell welcomes and encourages the participation of people with disabilities. Rosenfield Center has accessible parking in the lot to the east. You can request accommodations from the event sponsor or Conference Operations and Events.