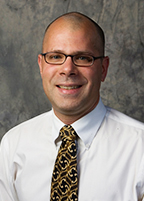 Timothy Knepper, professor of philosophy at Drake University, will discuss religious diversity in Iowa at 7:30 p.m. Tuesday, Feb. 23, in Joe Rosenfield '25 Center, Room 101.
The free, public lecture, titled "Religious Diversity in the Heart of Iowa," will explore dialogues between Christianity and other religions practiced in Des Moines.
Knepper is a part of the Religions of Des Moines Initiative, which seeks to develop and practice a philosophy of religion that is diverse. The initiative explores, documents and places Christianity in dialogue with other religions practiced in Des Moines, such as Judaism, Buddhism, Islam, Jainism, and Sikhism.
Chair of the department of philosophy and religion at Drake, Knepper also directs The Comparison Project, a public program in comparative philosophy of religion. His scholarship centers on the philosophy of religion, comparative religion, late ancient Neoplatonism and mystical discourse.
Knepper has written several books on the future of the philosophy of religion, including The Ends of Philosophy of Religion. He is working on a textbook about the global philosophy of religion and a photo-illustrated book on the religions of Des Moines.
The Center for Prairie Studies and Department of Religious Studies are co-sponsoring Knepper's lecture.