Taylor Watts '16 had never danced before taking a salsa lesson during her New Student Orientation. She discovered she loved dance.
Her passion for French goes back a little further, to her sophomore year in high school. Watts is combining both passions in a Mentored Advanced Project (MAP), "A Choreographic Exploration of the 'commerce triangulaire,'" under the direction of Celeste Miller, assistant professor of theatre and dance.
Watts had the idea for this MAP after several powerful academic experiences. One was a summer MAP in Atlanta, also directed by Miller, working with theatre and dance companies whose work addresses social justice issues.
Another was a semester abroad in Nantes, France. While there she learned about the history of France's largest slave port in the 18th century in a course taught by a black Frenchman. "Why is it so much easier to study [slavery and race] in a different culture's history? I was very interested in the class, but I wasn't going to do anything with it," Watts says.
When she returned to campus the next semester, Watts took a class on Caribbean authors from Haiti, Guadalupe, and Martinique with Gwenola Caradec, assistant professor of French. The impact of slavery on the Caribbean was a topic that spoke to Watts.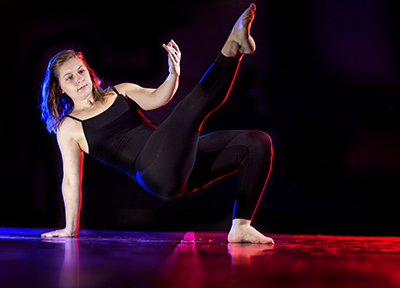 She says, "I really questioned doing it because I'm not French or from the Caribbean. Do I have the right to write about this? So I chose words directly from the text. Dance adds another layer of emotionality."
"Taylor's 'Choreographic Exploration' is a rich example of how dance, because of the undeniability of the body, can be a powerful and visceral use of the arts to examine complex and difficult topics," Miller says. "It is a choreographed embodiment drawn from research into both her topic and the aesthetic of the art form of dance."
"Because of the emphasis spoken French places on connecting each word so that a sentence flows together, just listening to French I can visualize movement," Watts says.
Watts was already planning the MAP when she heard about the France on Campus Award competition. She had just watched the film The Royal Tenenbaums, written and directed by Wes Anderson, one of the France on Campus Award patrons. The timing seemed auspicious. She won second place.
Watts will perform her work at 7:30 p.m. Tuesday, May 3, in Flanagan Studio Theatre in the Bucksbaum Center for the Arts. As part of her award, she also will receive mentoring from the French Embassy and from Kickstarter to raise funds that will enable her to perform the work on other U.S. college campuses. 
Taylor Watts '16 is a French and anthropology double major from Sacramento, Calif.