In their first year at Grinnell, twins Vrishali Sinha '19 and Vidushi Sihna '19 led women's golf to its third consecutive conference title. For added emphasis, they finished one-two individually at the Midwest Conference tournament in October.
The Sinhas' games were "on" from the start of the season. In their very first competitive rounds for Grinnell, Vrishali and Vidushi shot the second and third best scores in program history at 74 and 76, respectively. Grinnell team scoring records fell three times in the first three tournaments.
The twins' first-year success was not entirely unexpected. Both Sinhas have practically lived on the links since they were 10. As teens they were among the best women players in the Indian Golf Union, the governing body for amateur golf in all of India.
Vrishali and Vidushi had always planned to attend college together, but some were surprised that they would opt for Division III golf at Grinnell. The choice initially stunned their lifelong golf coach in India.
"Our coach wanted us to go Division I," Vrishali says.
"When he found out Grinnell was Division III, he was like, 'Why?'" Vidushi says.
Wanted a Balance
The Sinhas' father fielded the incoming appeals from Division I programs, but Vrishali says, "I have a lot of friends who went to Division I and they did not have a really good experience. We were always certain that we wanted to go Division III so we didn't even consider the Division I and II offers."
"We are really uncertain whether we want to turn professional or not," Vidushi adds. "You sacrifice your academics if you go Division I." 
So, does that mean academics were always their first consideration in choosing a college?
"I wouldn't say first," they say in unison, laughing at the common occurrence in their conversation.
"… but we wanted a balance," Vidushi finishes.
Coaches Influential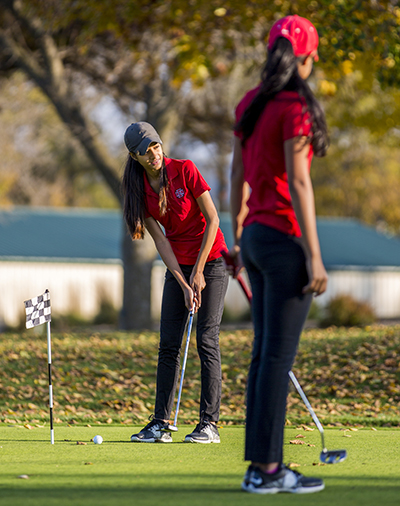 Grinnell golf coaches David Arseneault and Jennie Jackson can attest to the importance of tools like Skype and FaceTime in communicating with student-athletes, especially when prospective students live more than 8,000 miles away.
"We were in contact with a few coaches, and out of all of them we liked Coach A. and Jenny the most," Vrishali says. "I think that influenced our decision to come to Grinnell a lot."
The Sinhas also talked with teammate-to-be Lauren Yi '18 to find out about life at Grinnell from a student perspective, Vidushi says.
"For me, golf and academics are at par, but at a Division I, academics become secondary," Vrishali says. "People who I know (in Division I) have to choose an easier major so that they can balance out the study and travel."
"Also, there is just the one tutorial requirement here," Vidushi says. "I want to do a double major, and I think it's much better that way."
Liberal Arts Options
The Sinhas are a year away from declaring majors, and when asked what they might presently choose, they answer together: "Econ."  
"I want to double major in studio art and econ," Vidushi says. "There are a lot of artists in our family. My mom's an artist, my brother paints, I paint."
"Oh, no," Vrishali says about the possibility of two majors. "I'm fine with one."
Both sisters say they'll probably return to India after college, but for now they are comfortable keeping long-term plans open-ended.
"That is also why we came to a liberal arts college," Vrishali says, "because you have so many options here. I'm taking an intro to psych course and that's pretty interesting, so I might do something related to psychology, or stick with econ, I'm not sure."
Responding to Change
The Sinhas seem relatively undaunted by all they've experienced in a few short months, including the differences in American golf courses, the stateside approach to team play, and an academic system that requires a new way of doing things.
"Academics here are tough, definitely," Vidushi says. "The education system in India is a lot different from what it is here. Out there we just have …"
 "One exam…" Vrishali says.
"…twice a year," Vidushi finishes.
"You have to do well on your exams because that is 100% of your grade," Vrishali explains.
Dad Likes Decision
The biggest adjustment of all, however, was coming to a place the size of Grinnell from one of the largest population centers in the world.
"Delhi is huge," Vrishali says. "It's a lot colder in the interaction between people, which is more formal, like, just when it's required or necessary. Out here the people are a lot more friendly."
While their coach back home now has come around to approving of the twins' decision to come to Grinnell, their father was never in doubt.
"Oh, he's happy," Vidushi says.
"My dad is so happy," Vrishali says.
Vrishali Sinha '19 and Vidushi Sinha '19 attended The Shri Ram School in Gurgaon, Haryana, India.