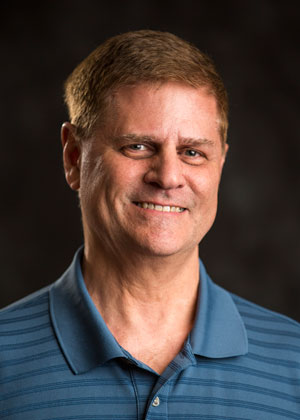 Scott Kinnie, who served 36 years in campus security at Kean University in Union and Hillside, New Jersey, has joined Grinnell College as interim director of Campus Safety and Security.
He is leading Grinnell's operations while Steve Briscoe, director of campus safety and security, is on extended medical leave. Briscoe joined Grinnell College 18 years ago as the College's first director of security. He developed the campus safety and security operation as it transitioned from a "night watchman" in Facilities Management into the comprehensive department we see today.
"We are thrilled to welcome Scott Kinnie to the Student Affairs team for this interim period," says Andrea Conner, associate vice president of student affairs at Grinnell College. "Scott's 36 years of experience at Kean University in New Jersey – and especially his increasing level of responsibility and leadership over the years at Kean – show that he was trusted to lead and advance their department.
"His expertise in higher education safety and security, Clery Act compliance, threat assessment and emergency management suit him to help us begin the process of making advances and modernizations in Grinnell's campus safety and security operation," she adds. "Even in Scott's first few weeks he's shown himself to be a valuable addition to our visioning and strategic planning process."
"I'm grateful to have this great opportunity to help Grinnell College build up its campus safety and security operations," Kinnie said. "We're looking at professionalizing the dispatch function, upgrading the radio communications system, and computerizing the records management system.
"We also hope to add officers over the next 1 to 3 years and to provide all officers with more high-level training in areas such as investigations, first aid, and report writing. In addition, we will be encouraging our officers interact more with students."
Kinnie, who holds a bachelor's degree in human services from Thomas Edison State College, began his career with Kean University Police as a detective, police officer. He was promoted to sergeant and then lieutenant of the investigations unit before serving as acting chief of police and director of public safety.
He retired from Kean in 2014 as deputy chief, operations lieutenant and executive officer. In that role, he directly supervised operational and administrative lieutenants, emergency medical service, fire safety and environmental health offices, and parking services. He was responsible for a staff of 62 sworn and nonsworn personnel. 
He went on to design and deliver active shooter training and tabletop exercises for colleges and universities in New Jersey. He also became project manager and senior consultant for a consulting firm specializing in creating a "best-in-class" campus security strategy for institutions of higher education.