Six Grinnell College students in the class of 2017 have received federally funded Benjamin A. Gilman International Scholarships to support their study abroad during the 2015 fall semester or the 2016 spring semester. Winners were chosen from a group of approximately 1,600 American undergraduates from 355 colleges and universities across the United States.
Two of Grinnell's scholars, Lizzie Eason '17 and Lily Galloway '17, studied abroad during the fall semester, and four are studying abroad this spring.  
Mathematics Meets Migration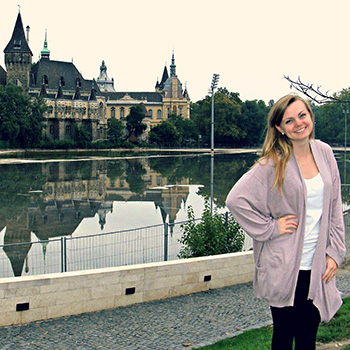 Eason at Budapest's Vajdahunyad Castle
Eason, a mathematics major from Lamoni, Iowa, was in Budapest, Hungary. There, she studied with world-renowned professors of mathematics and witnessed first-hand the refugee crisis in Europe.
"I returned to my home college, Grinnell, with a broader perspective both on mathematics and foreign policy," Eason said. She noted that her school was only two blocks away from Keleti Pályaudvar, the train station shut down by police to stop migrants from the Middle East from traveling through the European Union.
"On the day Keleti shut down, it was more crowded than I had ever seen it," Eason recalled. "There were narrow paths on the ground with no blankets where people could walk, but every other space on the floor was taken up by blankets on which refugee adults and children were begging for money and food."
Language Expands Archeological Options
Galloway, an anthropology major from Westchester, Illinois, spent her fall semester in Tanzania. There, she planned and executed with other undergraduates an archeological excavation of a 700,000-year-old elephant carcass. She also studied Kiswahili, one of the most spoken languages in Tanzania. She plans to pursue a career in archaeology.
"With this background and continued study of Kiswahili as part of Grinnell's Alternate Language Study Option program, I'll be able to promote dialogue between English-speaking archaeologists and Kiswahili speakers," Galloway said. "This will help improve communication about heritage preservation and lead to more collaborative scientific work on human origins in East Africa."
From Chile to the Czech Republic
Four of our Gilman scholars are studying abroad this semester:
Jinna Kim '17, a sociology and Spanish major from Bellevue, Washington, is in Argentina.
Hankyeol Song '17, a media and cultural praxis (independent) major from Bettendorf, Iowa, is in the Czech Republic.
Aniqa Rahman '17, a biological chemistry and French major from Hillsboro, Missouri, is in Morocco.
Robin Crotteau '17, a political science major from Boise, Idaho, is in Chile.
About the Scholarship
Funded by the U.S. Department of State, Gilman Scholars receive up to $5,000 to apply toward their study abroad or internship program costs. The program aims to diversify the kinds of students who study abroad and the countries and regions in which they study by supporting undergraduates who might otherwise not participate due to financial constraints. 
Students receiving a Federal Pell Grant from two- and four-year institutions who will be studying abroad or participating in a career-oriented international internship for academic credit are eligible to apply.
Students can apply now on the Gilman website for funding for study abroad during the 2016 fall semester or the 2016–17 academic year. Applications are due March 1.