About the Zone of Confluence
Broadly speaking, the "Zone of Confluence" is shorthand for the area between campus and downtown. The term was first coined in a 2013 Visitor Experience Study, jointly commissioned by Grinnell College and the City of Grinnell.
Intended to shed a fresh perspective on how a new visitor experiences the campus and community, that study observed that the area where campus and downtown come together could better serve the social and economic vitality of the downtown by creating a stronger bridge between the two. The College and the city took this recommendation seriously, and since 2013 have undertaken a process for revitalizing this gateway zone in an intentional way.
Together, our goal for the zone of confluence is to transform some of the underutilized and blighted properties into an active and vibrant mixed-used development by means of public-private partnership with Grinnell College as the primary driver.
Planning Team 
To advance zone of confluence visioning and planning, Grinnell College has engaged a team of outside advisers to develop recommendations for a catalyst project as well as a broader vision to help spark later stages of development. Zone advisers are McGraw-Bagnoli Architects together with Bolan Smart Associates, and Studio Bryan Hanes. 
Community Input
Since the fall of 2015-16, the planning team has made multiple visits to Grinnell to work with groups of campus and community stakeholders to assess the market, evaluate interests, and generate feedback toward a recommendation for a catalyst project for the zone.
Groups that have contributed to zone visioning include Grinnell College leadership, faculty, students, and staff, as well as community business leaders, city officials, civic organizations, and many members of the general public.
Visits have included a series of brainstorming and feedback sessions, reaction to a Visual Preference Survey, and in-depth discussions with those community development organizations dedicated to downtown development (such as the Chamber of Commerce, the City's Tourism Committee, and the Grinnell Private Investment Corporation). 
Initial Recommendations
Based on this feedback, goals for the zone include increasing traffic to downtown with a full range of Grinnell's users and uses. Depending on feasibility and user demand, final components could include uses as wide ranging as an expanded campus store, additional downtown residential options, increased downtown parking, selected college functions, modest additions to retail and/or dining, and public space that can be used year-round.
Additional Progress and Planning
Highly committed to the zone's potential, Grinnell College has begun laying the groundwork for zone redevelopment with selected land-banking of under-utilized properties in the broad area connecting downtown and the central campus.
Grinnell College is also committed to helping with the health of downtown by centralizing the two bookstore operations into a temporary downtown location on Main Street. Ultimately, an expanded campus store will likely serve as an anchor in the new zone of confluence district. Moving forward, next steps for zone development will include:
Continue to refine the long term vision
Begin to develop rough costs
Continue with land-banking opportunities and engagement with other partners
Pursue a catalyst project
Initial Moves to the Zone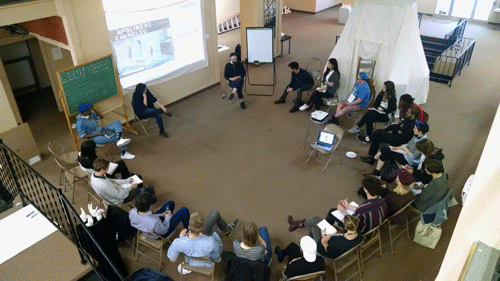 Make/Shift Pop Up Gallery
In spring 2016 the studio art faculty experimented with a pop-up gallery in a rented storefront downtown. The Make/Shift Space proved to be an engaging and productive space for teaching, learning, and community outreach. It was made possible through collaboration and support from members of the Grinnell Area Arts Council as well as other departments across campus. During the three short months it was open, the space hosted over 250 visitors for a range of exhibitions, workshops, and artist talks.
Bookstore Consolidation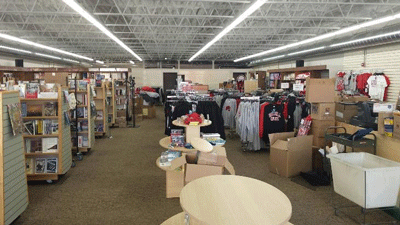 With construction beginning on the new Humanities and Social Science Complex on campus, the campus bookstore needed a new home. Consolidating the campus bookstore with the Pioneer Bookshop (formerly located downtown on 4th Avenue) provides a larger space and greater visibility for the bookstore. The combined location opened in July 2016.