Friends of International Students (FIS)
A non-residential friendship program of the Office of International Student Affairs

Now Taking Applications for Fall 2018
Join us! We are seeking participants for 2018–19. Complete your host application or student application today.
FIS is a non-residential program that builds student/community host friendships across culture, across generations, and across communities.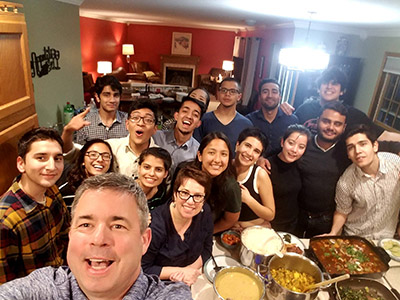 STUDENTS enjoy having a local connection (FIS helps them get to know the area better), and the opportunity to introduce their country and culture to people who live in Iowa. The option to request an FIS host is extended to new international students, language assistants, and a small number of U.S. students who have lived abroad. Grinnell College enrolls nearly 300 international students from over 50 nations.
HOSTS befriend students during their transition to our campus, our local community, and our country. Your life and the lives of our students are enriched as a result of your participation and "soft diplomacy" — and we appreciate your hospitality! We welcome families and individuals who range in lifestyle and stage of life. There are over 200 local hosts involved in FIS.
How It Works
Hosts and students complete an application to indicate their interest. The OISA assigns student/host matches in early August. Hosts receive information about their student by mail, and students receive information about their FIS host upon arrival in Grinnell.
In early August, during the International Pre-Orientation Program (IPOP), the OISA offers a brief (separate) orientation for students and hosts. The initial meeting is scheduled as an evening dessert event, after which both students and hosts are encouraged to initiate additional get-togethers.
We encourage students and hosts to initiate contact and extend invitations to get together, at your convenience. Hosts often invite students to visit their homes and to explore the local area. Students often invite hosts to campus activities and may consider their FIS host as a resource for their adjustment to life in Iowa.
The OISA staff and FIS volunteer coordinators are here to offer fresh ideas about connecting with your student, or an experienced ear if you run into struggles or questions about your FIS relationship. For more information, contact the OISA [641-269-3703] or email the OISA staff or FIS volunteer coordinators:
What the OISA Expects From FIS Hosts
Read this information, and attend the August FIS host orientation and meet-and-greet activities.
The primary goal is friendship. Do your best to get to know the student(s), help them adjust to life in Grinnell, and share experiences across culture and generations.
We hope your relationship will last throughout the student's first year at Grinnell. Some friendships last longer — but that's a perk, not an expectation.
Initiate at least two or three activities per semester (some do more, some do less). Personal contact is best — but phone, email, and Facebook are also great ways to stay in touch.
Don't wait for the student to reach out — FIS hosts often need to initiate, at least in the early stages.
Read a bit about the country your student calls home. CULTURE GRAMS offer an excellent overview to get you started. You might also be prepared to answer some questions about U.S. American culture.
The OISA loves hearing about your FIS adventures. Send us stories or photos!
We are always looking for new FIS hosts; share this opportunity with your friends.
Remember, if your student has a question or concern, they can ask their community adviser (CA), residence life coordinator (RLC), or the OISA for help.
Some students, or their parents, may have higher expectations of your role — let us know if you need help with this.
If you are ever concerned about your student's physical or emotional well-being, please contact (or refer them to) the Office of International Student Affairs, 641-990-3700; Campus Safety & Security, 641-269-4600; or Student Health & Counseling Services, 641-269-3230.
What Hosts Can Expect from the OISA
We'll introduce you to your student, to help your friendship get off to a good start.
We'll send you two meal passes for the Marketplace Dining Hall, compliments of the Office of Community Enhancement (we encourage you to connect with your student on their turf).
We'll invite you to several special events:

Grinnell's Family Weekend
Fall Pumpkin Carving Party
Winter Social
Two annual events hosted by the International Student Organization: ISO Food Bazaar (tickets for advance purchase) and ISO Cultural Evening (open admission).

We'll email you periodically; please update us if your address changes. We sometimes communicate with FIS hosts if your student is experiencing difficulty, but we don't always have the option for reasons of confidentiality.
You'll receive MOSAIC, a student magazine about global activities at Grinnell. We welcome your contributions, too!
The Student Alumni Association will invite you to participate in their optional Exam Care Package Program. Alternately, some hosts create their own care packages to show support during exams.
In May, we reach out to ask FIS hosts about your experience, and we invite you to consider hosting a new student the following August. Note: Although t is not a requirement, if you stay connected with the students in their second, third, and forth year, that's wonderful! Upper class students can also be a great resource to first-years as they get to know each other as 'host siblings'.
What FIS Hosts and Students Should Expect from Each Other
Initiate two or three activities per semester (some do more, some do less). Personal contact is best — but phone, email, and Facebook are also great ways to stay in touch.
It is ok to ask for help — but it isn't ok to make assumptions about ability, availability, or willingness to offer help.
Enjoy your time together — and do your best to invite and include each other in activities that you enjoy.
Be open minded. Ask questions. Teach each other about your culture and your experience.
Both students and hosts are encouraged to extend invitations to get together on campus or off. The best relationships are mutual and interactive.
We're all busy! Students and hosts live busy lives. If an invitation won't work or isn't appealing, it's ok to say no!
Be polite. Reply to emails, voicemails, etc. Be on time. Say thank you. Plan ahead. Communicate when plans change.
STUDENTS: Consider the life stage and mindset of your FIS host and potential family members as you approach this relationship. FIS hosts have a wide range of backgrounds — some have traveled, some have not; some are new to Iowa too, others have lived in Grinnell their entire life! Children may be enamored by you; or they might not care at all. Very few will have visited your home country (though some probably have). In addition, please remember that FIS hosts are not your private taxi service or storage unit It's ok to ask your FIS for help if you need it, but it isn't their job, and you should use college services for these needs first.
HOSTS: Consider the life stage and mindset of a 17–20-year-old as you approach this relationship. Remember that the student might be coming to the U.S. for the first time. In addition, the student is not your private baby sitter, language tutor, or cultural ambassador. It's OK to ask your FIS student for help, if you need it, but it isn't their job, and it's actually unlawful for F-1 students to engage in services for pay.
Why Participate in FIS?
Are you curious about the Friends of International Students program? Learn from several international student participants and host families about why they participate and what they get out of the relationship.
Saung Thuya '19, Myanmar, hosted by Dan and Sara McCue and family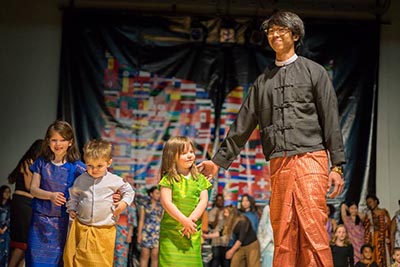 My first few weeks at Grinnell were tough, mainly because of homesickness and a new culture that is literally opposite to the Burmese culture I was brought up in. I am sure that many new students who were brought up in a culture similar to mine will relate to this feeling, in their early weeks at Grinnell. However, there is no need to worry. The option to get a local FIS host during IPOP (International Pre-Orientation Program) days has been one of the greatest gifts from Grinnell. I got to meet Dan and Sara McCue, and their three beautiful children, Slane, Hanna, and Graeme. They became a part of my life. They became the family that I really needed, during the biggest transition of my life. They helped me overcome my homesickness and culture shock. They helped me get connected with the Burmese community in Marshalltown. They even learned how to make Burmese tea, which is a treat when I hang out at their place! They helped Grinnell feel more like home. I encourage all incoming international students to apply for an FIS host. I know that I have gained a family that I'll care about for years to come.
Donna and Allen Ricks, hosts to Tapiwa Zvidzwa '19, Zimbabwe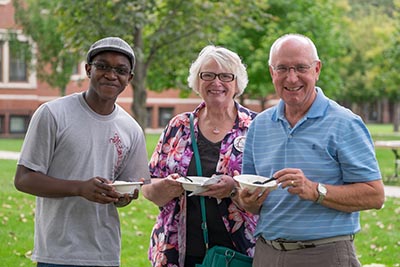 We moved to a Grinnell acreage in 2011 in order to be closer to grandchildren. Donna is a retired high school speech and English teacher, and Al is retired from Iowa State University Extension. We're enjoying a busy life, filled with volunteer and church activities. We heard about FIS and thought it would be a great opportunity to explore more cross-cultural relationships. With Iulia Iordache '15, our Romanian "daughter," we were hooked. We love welcoming the students into our lives — sharing holidays and special events, as well as everyday moments as time allows. We treasured our years with Iulia, and now we're equally delighted to have Tapiwa Zvidzwa, from Zimbabwe, in our lives. What fantastic young adults find their way to Grinnell College! Our lives have been enriched as we've gotten to know our FIS students, and we hope they'll long remember Grinnell's warmth and hospitality.
Ying Long '17, China, hosted by Paige Everly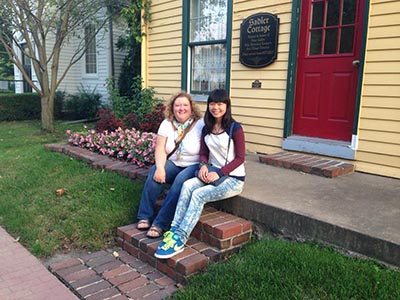 I am a computer science major with a statistics concentration. Before I came to Grinnell, I was very nervous about everything. Could I make friends? Would I like my FIS host? The first time I met with my host mom, Paige Everly, she gave me a huge hug and asked me lots of questions. I wasn't used to hugging someone as a greeting, and I was less confident in my English. Our relationship has grown so much since then! I share exciting things happening in my life and invite her to my performances on campus. She introduced me to her family, so now I have a grandma, grandpa, and cousins. Spending my first Christmas with them is one of the best memories in my life. My little cousins, Lauren and Georgia, sent me postcards when I studied in Mexico, and it felt great to know that they missed me too! I really appreciate this experience — my host mom has welcomed me into her family and has become a true friend.
Kelly Guilbeau, host to Mari Ivica '18, Serbia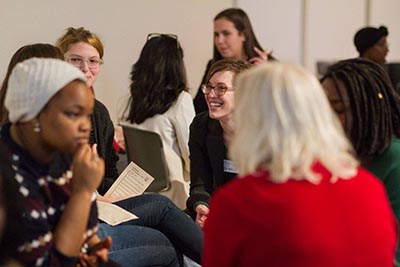 I moved to Grinnell three years ago to work in the Center for Careers, Life, and Service here at the College. Since then, I've found my place in this community, by joining the Grinnell Area Arts Council board and co-founding an organization called Milkweed Matters, which helps create habitat for monarch butterflies across the state. I love the simplicity of the town, with all of its supportive, creative, inspiring residents! That's what made it an easy decision to become a host for an international student two years ago. I wanted to share my love of Grinnell with someone who perhaps had not ever experienced small-town America. And I wanted to do that while learning about a place in the world I had perhaps never been!  My first international student, Mari, comes from Serbia, and we have had many discussions about our perceived differences in lifestyles, politics, and families because of our home-country upbringings. And we often have these philosophical and intellectual chats while strolling downtown on our way to get frozen yogurt or breakfast at A&M. It's quite a juxtaposition, and I wouldn't want it any other way. Mari and I joke that I am more like a host-sister than a host-mom, and I think that works well for our lifestyles and needs.
Papa Kojo Ampim-Darko '19, Ghana, hosted by Sarah Purcell and Hugh Sheridan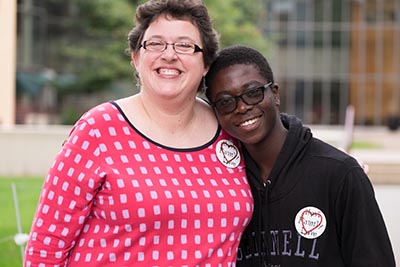 I signed up for the FIS program just in a "why not?" moment, but it's turned out to be one of the best decisions I've made. Host families are a great comfort and a home away from home. Mine have been there to cheer me on — be it chilly days on the soccer field or cultural shows — and to help me get the things I need (my favorite winter jacket), the things I want (a fridge); and the things I love (FOOD, SO MUCH GOOD FOOD)! They've helped me to discover parts of Grinnell that I never knew about — trails in CERA [Conard Environmental Research Area], the city swimming pool, etc. They have welcomed me into their family with open arms. I would totally recommend anyone to take advantage of this opportunity and sign up for a FIS host family, because if they're anything like mine, they'll be one of your favorite things about Grinnell.