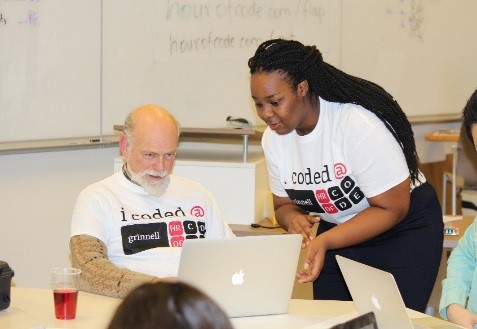 In collaboration with over 80 local non-profit, direct service community partners, the Center for Careers, Life, and Service (CLS) offers a continuum of support for curricular service and community based learning opportunities.
Grinnell's community-based learning initiatives operate under the assumption that civic engagement activities not only address issues affecting the common good, but they also serve as a platform for interdisciplinary, transformational learning.
The courses and activities supported by the  CLS and Dean's office allow students to become active participants in their education while making a difference and learning about unique aspects of the larger Iowa community. The activities deepen students' understanding of what they are learning while teaching related, transferrable professional, civic, and personal skills. Moreover, the activities allow students to appreciate the interdisciplinary nature of real world problem-solving and thus to understand the multidisciplinary value of a liberal arts education.
Example 1: Latin@s in the U.S.: Issues for Social Change (SPN320)
Spanish Professor Carmen Valentin's  class partnered with an organization that mentors young Latina youth in Tama. 
This partnership resulted in co-curricular service learning work-study and volunteer positions within the organization that allowed students to develop and implement a curriculum for Spanish-speaking immigrant parents teaching them about the American higher education system.
The curriculum was shared with parents in 9 different communities throughout Iowa and involved over 30 Spanish speaking Grinnell College students.
Example 2: Team Software Development for Community Organizations (CSC 322)
Computer Science Professor Samuel A. Rebelsky's class allows students to develop software packages over the course of multiple semesters. 
Students in this course have created software packages that help a local non-profit track its food pantry inventory and communicate real time needs to the community. In addition, students have also created software that helps Head Start teachers communicate important information to parents via smart phones. Both of these software packages are scalable and the non-profit hopes to expand their development and use to counties all over central Iowa.
We think our students should understand the ways in which their computing skills can make a positive difference in the world," says Rebelsky. "At the same time, it's important for students to learn how to work with clients who know what they want done, but not how it can be done."
Learn more at Coding for a Cause.
Example 3: Grinnell Caucus Project (SST 295)
The Grinnell Caucus Project (SST 295) was designed by Political Science Professor Barb Trish. The tagline for the course was "10 students, 10 days, 1 bus, a front seat to the election."
Students spent the week engaged in an intensive examination of the Iowa caucuses and the campaigns leading up to them.
Students:
Attended candidate events;
Visited campaign headquarters, party headquarters, media outlets, paid vendors; consultants, and state ethics and campaign finance boards;
Talked with reporters, campaign and party staff, activists, and consultants; and
Learned how politics work!
Learn more at the Grinnell Caucus Project.