Language Assistant
The Language Assistant has office hours in ARH 228 to help students practice oral, listening, reading, and writing skills. 
Hours: Mondays and Wednesdays 7–8 p.m.; Tuesdays and Thursdays 11 a.m.–noon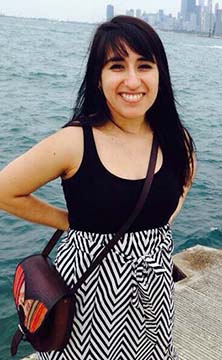 Romina Pena Pincheira, 2016–17 Spanish Language Assistant
Links
El Mirador
El mirador is a project of the Spanish Department at Grinnell College which seeks to involve Spanish language students with Spanish-speaking cultures. Students of Grinnell College who are studying abroad in Spanish-speaking countries will provide accounts of their experiences in the form of journal entries, images, and audio files that will be shared with the campus community through El mirador.
Dictionaries
Diccionario de la Real Academia de la Lengua
Diccionario Panhispánico de Dudas de la Real Academia de la Lengua
Corpus de Referencia del Español Actual (CREA)
Diccionario Español-Inglés Espasa Calpe
Diccionario Español-Inglés Oxford
Diccionario de sinónimos y antónimos
Nuevo Diccionario Histórico de la Lengua Española - Corpus Diacrónico del Español (CORDE)
Links to dictionaries of Native American languages, including Aymara, Guaraní, Nahuatl, Quechua, Quiché, Quichua, and more
Media
Cibercentro
Infoamérica
Zona latina
LANIC Network Information Center (University of Texas)
Radio Stations (Spain)
Spanish Language Television Channels
El periódico El País
Language, Literature, and Culture
DELE - Diploma de Español como Lengua Extranjera
Centro Virtual Cervantes
Cuadernos Cervantes
La página del idioma español
Real Academia Española de la Lengua
Nuevo Tesoro Lexicográfico de la Lengua Española
The Spanish Verb Conjugator
Biblioteca Virtual Miguel de Cervantes
Antología Virtual de Literatura Latinoamericana
Autoras latinoamericanas
Proyecto Sherezade (cuentos para estudiantes de español)
LANIC Network Information Center (University of Texas)
Archivo Gramatical de la Lengua Española (AGLE)