2016 Grinnell Prize Winners
The power of words and language to effect positive change in individuals and societies is the focus of the 2016 Grinnell Prize, the largest monetary award presented by a U.S. college recognizing achievements in social justice.
Grinnell College selected two winners of the $100,000 Grinnell College Innovator for Social Justice Prize this year: Luna Ranjit, cofounder and executive director of Adhikaar, and Diana Jue Rajasingh and Jackie Stenson, cofounders of Essmart. Each prizewinner received $50,000 as an individual and $50,000 for her organization.
The winners will receive their prizes on October 4, 2016.
Luna Ranjit '00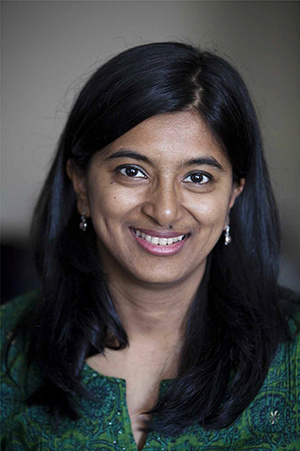 Luna Ranjit '00 is the first Grinnell College graduate to win the Grinnell Prize. In 2005, Ranjit founded Adhikaar to promote human rights and effective social justice work in Nepali-speaking communities in New York City and the United States. Adhikaar works to best understand and address the needs of the growing Nepali immigrant communities through community-based participatory action research. With this data, Ranjit has been able to inform and work collaboratively with other organizations, service providers, and government agencies. Some of Adhikaar's most recent and visible work is the campaign to pass legislation to improve working conditions for domestic and nail salon workers in New York City, which gained national attention and has inspired similar legislative efforts across the country. Ranjit's essential role in that campaign exemplifies her skill in collaborating across constituencies to improve the lives of US Nepali-speaking and immigrant communities as a whole.
Ranjit graduated from Grinnell with her bachelor of arts in economics and global development studies in 2000. In 2006, she received the Joseph F. Wall '41 Award for Alumni Service, which is awarded to two Grinnell College alumni to either jump start or complete a project that shows creativity and commitment to effecting positive social change.
Diana Jue Rajasingh and Jackie Stenson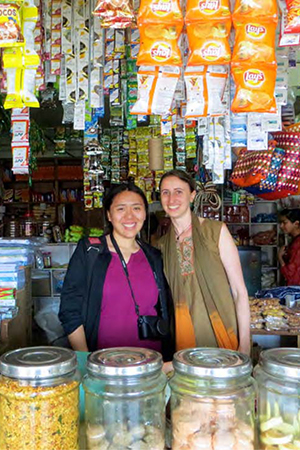 Rajasingh and Stenson's commitment to effective and just last-mile distribution systems emerged as they researched and developed their respective master's projects on urban planning and effective global technology distribution. Rajasingh and Stenson acknowledge the injustice that occurs when projects focusing on the global poor ignore local voices and economies in favor of short-term solutions determined by foreign entities. Thus, Rajasingh and Stenson's work with Essmart engages local consumers, vendors, and technology users as active decision-makers in their product choices and distribution methods. Essmart works directly with local street vendors in India who the majority of households rely upon for their consumer needs. Together with these vendors, Essmart helps to collect qualitative and quantitative data on rural consumption patterns and needs. They then source requested technologies and goods from locally based companies who are able to provide sustainable, relevant, and permanently available products. Essmart's innovative and interdisciplinary distribution model is sustainable and gives developing communities decision-making power in their own well-being and economic growth.