February 27 2017 01:54 pm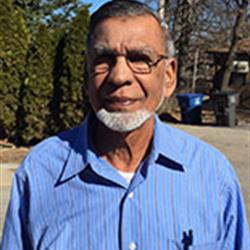 ​Mohamad W. Khan, executive director of the Muslim Community Organization/Masjid An-Noor Mosque in Des Moines, will speak at 7:30 p.m. Monday, March 6, in Bucksbaum Center for the Arts, Room 152, on the impact of President Trump's policies and values on Des Moines's and Iowa's Muslim population.
Although Iowa ranks 29th of the 50 states in its per capita Muslim population, it is home to the oldest standing mosque in the United States, the "Mother Mosque of America" – which was built in 1934 in Cedar Rapids, Iowa.  The Muslim community there dates from the early 1900s, when small groups of Muslims and Christians emigrated from what is now Lebanon. "Most people don't think of Muslims in the heartland," says Albert Aossey, co-founder of the Midwest Islamic Association, "but this is where they first came looking for a better life."
The Masjid An-Noor Mosque, located at 1117 42nd Street in Des Moines, like the six other mosques in the city, does not call attention to itself. Across the country, American Muslims have found themselves the object of more attention — a not always comfortable mix of scrutiny and curiosity — in recent years, and Des Moines's Muslim community is no exception.
Khan is a long-time Iowa resident. He is a retired horticulture specialist at Iowa State University. He also hosted Gardening Today, a talk show, for about 20 years on WHO Radio in Des Moines. Mohamad Khan spends much time dialoging and bridging relationships with different religious organizations, and educational institutions.
His appearance is co-sponsored by the Center for Prairie Studies, the Department of Religious Studies, the Peace and Conflict Studies Program, and the Center for Religion, Spirituality, and Social Justice.
Grinnell College welcomes the participation of people with disabilities. Accommodation requests may be made to Conference Operations.
The College welcomes the presence of minors at all age-appropriate public events and for informal visits, with the understanding that a parent, legal guardian, or other responsible adult assumes full responsibility for their child's safety and behavior during such visits or events. In these cases, the College expects that an adult responsible for the visiting child takes measures to ensure the child's safety and sees that the child complies with directions of College personnel. Grinnell College is not responsible for supervision of minors on campus.