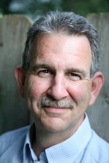 Jeff Dickey-Chasins '81 will be a featured speaker in the Leading Innovation and Entrepreneurship speaker series on Friday, Nov. 17. The event, which is free and open to the public, will start at 2:00 p.m. in Harris Cinema. The Donald and Winifred Wilson Center for Innovation and Leadership is sponsoring the speaker series and associated course.
Dickey-Chasins spent a decade in magazine publishing, launching several magazines for programmers as well as a book division, CDs, a seminar series, and trade shows. Dickey-Chasins then became the first marketing director for Dice.com, the world's largest IT job site, growing its revenues from $7 million to $65 million in 3 years. After spending some time in the e-learning industry - where he launched and expanded an online compliance training system for large corporations - he became an independent consultant. Dickey-Chasins specializes in working with online job sites and related recruiting services, and has clients across the globe.
He has also been active in the Grinnell community, leading the drive for a new public library, which was opened in 2009. He has written and published fiction for many years, and is also an aspiring furniture maker.