About the Grinnell AmeriCorps Partnership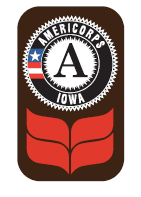 Now in its third year, the Grinnell AmeriCorps Partnership brings together community non-profits, area employers, the Grinnell-Newburg School District, and community volunteers to support kids and families in Grinnell. By working together in new ways, the partnership aims to:
Give students a strong start so they can succeed in school in the early years; and
Help students with a strong finish so they are prepared to do well after graduation
The community's interest in working together to better support local kids and families began when the school district was introduced to the national Campaign for Grade-Level Reading in the spring of 2013-14. The enthusiasm grew rapidly with a unanimous decision by 20+ community organizations to apply to join the Campaign. A 2015 AmeriCorps grant transformed the effort by funding a team of AmeriCorps Members to support both the Campaign for Grade-Level Reading for young students as well as a "Skills Gap" initiative at the high school level. The partnership was awarded two grants for 2017-18. Similar to the first years, the grants will provide for 53 AmeriCorps Service Members who will coordinate community-based partnerships and help with summer learning programs.
For the 2017-18 service year, if you are interested in serving as an AmeriCorps Member or getting your organization involved with the project, please contact AmeriCorps[at]grinnell[dot]edu or call 641-269-3900.
2016-17 Summer Learning Corps Members
2016-17 Summer Learning Corps Members Pictured:  Back row: Seth Hanson, Austin Jack, , Molly Skouson, Kyle Cogley J.P. Dugas, David Gilbert, Joseph McDonald, Carson Dunn, Ashley Mikel, Claire Eide, Alayna Costner-Withee, Milena Silva, Saiham Sharif, Ernie Nanetti-Palacios. Next row: Chloe( Cici) Dugas, Sophie Wynde, Neill Goltz, Maggie Dambro, Zac Loftin, Andrew Liman, Michaela Bradley,Tanner Tokle, Albiona Limani, Kasiah Ehresmann, Morgan Brennecke. Kneeling:  Rita Mertens, Mary Rose Bernal, Carolyn Peckham, Maddie Birchfield, Emilee Hulsing, Kenadie Fiebelkorn, Sierra Whisenand, Alexis Hardenbrook, Alena Nore. Seated: Shay Petersen, Morgan Ives, Regan Sharp
2016-17 AmeriCorps Taskforce Coordinators
With the second year of the Grinnell AmeriCorps Partnership, there are five AmeriCorps members continuing the good service that was begun in year one with community-wide taskforce collaboration. These five members are serving in host sites across the community and focusing on community education priorities including student attendance, afterschool enrichment, skills gap, volunteer infrastructure, and summer learning. These AmeriCorps Taskforce Coordinators will continue to support and enhance community education projects and the long and short term plans developed during the first year of the Grinnell AmeriCorps Partnership.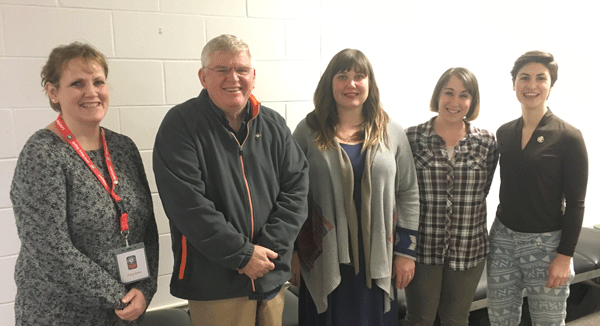 2016-17 Taskforce Coordinators Pictured: Tracy Reitz (Afterschool Enrichment), Doug Cameron (Student Attendance and Senior Member), Melissa Berman (Volunteer Infrastructure), Rita Mertens (Summer Learning), and Samantha Ramsey (Skills Gap).
Partnership Supporters
At the national level, the anchor investor for the Campaign for Grade-Level Reading is the Annie E. Casey Foundation. In Iowa, the campaign is supported by the work of the Iowa Council of Foundations. Locally, the Grinnell AmeriCorps Partnership is made possible by a 2015 AmeriCorps grant through the Iowa Commission on Volunteer Service, and two generous donations from the Claude W. and Dolly Ahrens Foundation and Grinnell Mutual Reinsurance. The AmeriCorps Grant is administered by Grinnell College and provides for the team of 38 AmeriCorps service members. The Greater Poweshiek Community Foundation houses a fund to support the effort and has successfully applied for additional grants to enrich that effort.
How to Get Involved
If you would like to support Grinnell's Campaign for Grade Level Reading with a financial contribution or would like to get involved as a volunteer through the Grinnell AmeriCorps Partnership, please contact the Greater Poweshiek Community Foundation to express your interest.
About AmeriCorps
AmeriCorps is a program of the Corporation for National and Community Service, a federal agency that engages more than 5 million Americans in service through its AmeriCorps, Senior Corps, Social Innovation Fund, and Volunteer Generation Fund programs, and leads the President's national call to service initiative, United We Serve.
AmeriCorps engages more than 75,000 members in intensive service annually to serve through nonprofit, faith-based, and community organizations at 25,000 locations across the country. These members help communities tackle pressing problems while mobilizing millions of volunteers for the organizations they serve. Since 1994, more than 900,000 Americans have provided more than 1.2 billion hours of service to their communities and country through AmeriCorps.