During Grinnell's week-long fall break, 11 students in the Opera, Politics, and Society in Modern Europe course went to San Francisco with Kelly Maynard, assistant professor of history, to get an up-close look at how politics and culture influence the development of modern opera. Thanks to the generosity and enthusiasm of trustee Craig Henderson '63, who opened his home and opera connections to the class, students spoke with opera singers, saw orchestral rehearsals, met with opera critics, and got exclusive backstage glimpses into set design and media suites.
"It really helped me put everything that we learned in class into perspective," says Austin Schilling '17. "You can read about how people used to make sets or how people designed opera houses 200 years ago, but you can't get a real feel for it without seeing how everything operates with your own eyes."
Students saw two live opera productions, The Magic Flute and Lucia di Lammermoor, at the San Francisco Conservatory and the San Francisco Opera House. Some were surprised at how different it was from watching operas on-screen. "Seeing an opera live in front of you and getting to analyze it on the spot with your classmates gives you a completely new perspective," says Sam Hengst '18.
What students didn't expect was the opportunity to meet with the director of the San Francisco Opera, David Gockley, who made time to meet with them during one of their tours. With half a semester of in-class study and a rigorous week of immersion in the world of opera under their belts, students were prepared to ask Gockley questions that helped them to discover the modern parallels to what they learned in class.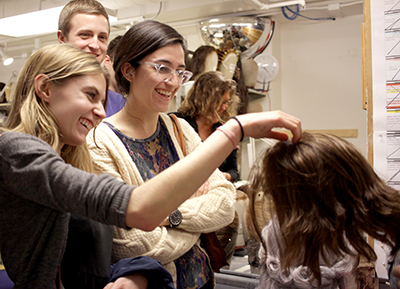 "We got to see firsthand that the history we're studying in class is alive and functioning today and is still as rich and complex as it was 200 years ago," says Elizabeth Allen '16.
"I think my biggest take-away from this experience is that you need to look at things from many different angles," says Hengst. "When we do readings, we're so used to just thinking about things in one way, but on this trip we saw that the world of opera is complex, from the actors and singers to set design and the use of technology. It's a network, and we couldn't have gotten such a great understanding of that from just reading about it."
Through learning about the many complicated components that go into an opera production, these students discovered aspects of opera that they had never expected to be interested in. Allen even discovered an area that may turn into a topic of future research — the way globalization and art collide in modern opera.
"Thinking about The Magic Flute, which is an 18th-century Viennese opera, translated into English in the 21st century by David Gockley, using set design that includes the aesthetics of contemporary Japanese ceramics … it's something global and contemporary, but still rooted in the past," Allen says. "Seeing that was a really pivotal experience for me, and I realized that that's the way I want to look at things in the future."
For Allen and the other students in the class, learning about the many factors that contribute to opera opened their eyes to viewing things differently and looking beneath the surface of a finished product, a skill that will benefit them no matter what field they go into.
Austin Schilling '17 is a mathematics and German double major from Evanston, Ill.
Sam Hengst '18 is a German major from Madison, Wis.
Elizabeth Allen '16 is from Santa Fe, N.M., and is an art history major.