Dave Loewenstein '88 is returning to campus — along with co-directors Nick Ward and Amber Hansen — for a panel discussion and film screening of Called to Walls. The free, public event will begin at 7 p.m. Friday, May 6, in ARH Auditorium, Room 302.
Called to Walls is "part road-movie, part inspirational small town drama, and part art documentary" that chronicles the making of giant murals in the city cores of places like Newton and Joplin, Mo.
For Loewenstein, there's more to creating a mural than just painting the side of a building. He designs political activism prints and specializes in community-based collaborative public art projects. He's worked on murals all over the United States, including Grinnell, as well as in Korea, Northern Ireland, and Brazil. In his experience, making a piece of public art has encouraged conversations (and offers of help) from passers-by, resulting in what he calls an "improvised gathering space."
The events are sponsored by Alumni in the Classroom and Artists@Grinnell.
Dave Loewenstein '88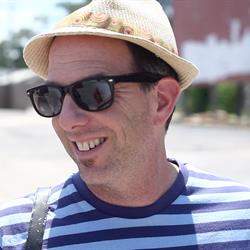 Dave Loewenstein is a muralist, writer, and printmaker based in Lawrence, Kansas. In addition to his more than twenty public works in Kansas, examples of his dynamic and richly colored community-based murals can be found across the United States in Missouri, Oklahoma, Arizona, Arkansas, Texas, South Dakota, Mississippi, Iowa, Chicago, New Orleans, and New York City, and in Northern Ireland and South Korea.
Loewenstein's prints, which focus on current social and political issues, are exhibited nationally and are in the permanent collections of the Museum of Modern Art in New York, Yale University,  and the Center for the Study of Political Graphics in Los Angeles. He is the co-author of Kansas Murals: A Traveler's Guide, a 2007 Kansas Notable Book Award Winner, published by the University Press of Kansas; and the co-director of the documentary film Creating Counterparts which won Best Documentary at the 2003 Kansas Filmmakers Jubilee.
Loewenstein has been recognized widely for his work, including the 2001 Lighton Prize for Arts Educator of the Year from Kansas City Young Audiences, the 2004 Tom and Anne Moore Peace and Justice Award given by the Lawrence Coalition for Peace and Justice, a 2006 Phoenix Award from the Lawrence Arts Commission, a 2007 Kansas Press Association 1st Place Columnist Award for his column "Blank Canvas," and in 2014 he was named one of the founding Cultural Agents for the new U.S. Department of Arts and Culture. His most recent studio project is Give Take Give, funded by the Rocket Grants program.