Rebecca Lord accepts an Honorary Doctor of Humane Letters on behalf of her father, influential literary agent Sterling Lord '42.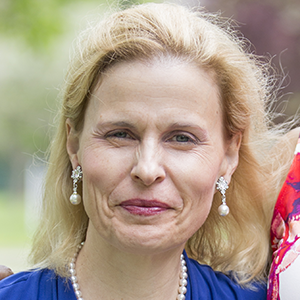 About Sterling Lord '42
Lord is an influential, longtime literary agent who has negotiated some of the most important book deals in literary history, championing (among other things) Jack Kerouc's On the Road. Over the course of more than half a century in the business, Lord has represented authors including Ken Kesey, Lawrence Ferlinghetti, Dick Francis and Stan and Jan Berenstain, whose Berenstain Bears books have sold 290 million copies in the U.S. and Canada alone.
Doctor of Humane Letters
Behind every beloved and culture-shifting author is a book agent who saw that writer's potential and fought hard to make sure that his or her stories were heard. For more than 60 years, Sterling Lord '42 has helped bring unique and powerful voices to the world.
Lord had just set up shop as an agent in 1952 when a distinguished editor called him and said he'd soon be hearing from an unknown writer named Jack Kerouac. A few days later, Kerouac stopped by Lord's one-room office with a manuscript for what would become On the Road.
It took Lord nearly four years to land a deal for Kerouac's unconventional tale, but he was Kerouac's tireless champion throughout the process, encouraging him to keep writing even when Kerouac considered giving up publishing his work altogether.
Kerouac was the first of Lord's many remarkable clients, which include Ken Kesey, Dick Francis, Frank Deford, and Gloria Naylor. Lord also represents Stan and Jan Berenstain, whose Berenstain Bears books for children have sold nearly 300 million copies in North America alone.
Lord's time-tested approach as an agent focuses on deeply understanding and championing writers and their visions. It's a philosophy that has allowed his agency, Sterling Lord Literistic, to thrive. A recent Vanity Fair profile praised Lord as having a "near psychic connection to authors."
While Lord is best known for helping other authors find their place in the world of publishing, he recently wrote a publishing memoir of his own. Lord of Publishing was hailed by reviewers and praised as "one of the great publishing memoirs of the modern era." Now in his 10th decade, Lord remains an active agent. His clients call him "the last real gentleman in the book publishing business."
For helping to bring some of the greatest American voices to a wide audience, we are pleased to honor Sterling Lord '42.
Transcript of Speech
Hi, I am Rebecca Lord, and I am thrilled to be here today to accept this honorary degree on behalf of my Father, Sterling Lord. I want to thank the Honorary Degree Committee, President Kington, the Grinnell faculty and the Trustees for recognizing my Father's tireless and enduring contribution to the field of literature for over 60 years now.

By bestowing the privilege of this degree on my father, Grinnell has brought him full circle to where he first found a strong sense of self and learned the value of community. This is a poignant coming home for him.

In writing his memoirs, Lord of Publishing, released just a year ago,

my father reflected on what his life had been about. He made a pivotal revelation in the back of a cab just a few years ago. A New York City cab ride can be a kind of transformational crucible. If you are not having a near death experience from the drive itself, you are generally meeting someone from a different culture or discovering great truths. My father saw himself clearly in the answer he gave to a cabby new to New York, who asked him, " How do you get rich in New York City?" My father, amused that the cabby would even think he had the answer to such a question, replied, "What you should do, as early in life as you can, is find an occupation or line of work that really interests you. If you get involved and become committed and stay with it, you can live a long time and enjoy it, and have a rich life."

My dad is a man fueled by passion. His passion is and has been to help the writer advance his or her career and to bring vital narrative into the public arena. Ever since I was a little girl, I have listened to him speak of the importance of quality in the work he represented, the impact it could have on our culture and the significance of getting a particular author's voice heard. Watching him work is like seeing a higher force and purpose fully expressed through a man.

About six years ago, I was thinking of writing a book. I sat down to talk to my father about it. I wondered how it would go because the topic of the book I had in mind was foreign, even to him. When we finally sat down to talk, he was thrilled. I saw a look of pure delight illuminate his face. It seemed to me that he might be thinking, "Finally, after all these years of loving horses and doing things that are not remotely in my realm, she has come to her senses." As I began to describe the story and my relationship to it, I was shocked. Dad asked all the right questions, even though he knew nothing of the topic. I immediately felt him being engrossed in the story and becoming my complete and total champion. It was as though the very forces of creation were at his command.

I had never before experienced my father this way. It was beautiful. It seemed as though heaven had opened up and was pouring out through my dad.

My father grew up two hours from here, in Burlington, Iowa. He is the eldest of three sons born to Sterling Lord Sr. and Ruth Lord. His love of story and books was instilled in him as a child. His father had learned the art of bookbinding long before my father was born. Bookcases filled with leather bound-books accented with gold inlay covered an entire wall of the family living room. His mother would read aloud every night to the entire family. My grandfather taught him how to bind books. The details of the process, the elegance of the finished product and the high regard that his parents had for books gave my father a reverence for the power of the written word.

Dad's love of books and reading led him to writing, primarily journalism. He was a local high school stringer for the sports department of the Des Moines Register.  He began to develop a good story sense. He came to understand the value of information and the impact that the timing of revelation can have on a story. While he deeply enjoyed writing, by the time he finished college, he realized it was not his forte. Years later, he said to me, " Without planning or thinking about it, I believe, I moved into agency work because it enabled me to work with these dramatically better-than-I writers."

Dad attended Grinnell his junior and senior years of college.

His parents didn't have enough money to pay the full tuition.

To support his education, Sterling waited tables in the dining room during the school year. In the summers he joined the work crew on campus, painting buildings and doing odd jobs. While at Grinnell, he was captain of the tennis team and represented Grinnell in the National Intercollegiate championships in both 1941 and 1942. His senior year he was president of Gates House.

The question of what to do after graduating from Grinnell was immediately answered by the U.S. Army. Dad was drafted.

He was shipped off to Europe and arrived just as the war came to an end.  He never saw action on the battlefield. But he did not emerge from the war unscathed. When he arrived and was settling into his bunk, the metal bunk above him crashed, falling onto his right index finger, crushing its nailbed. To this day, I tease him that it is his Purple Heart finger. How lucky he was.

My father jumped from the war right into publishing. He transferred to the Stars and Stripes, an army daily paper. From there he went on to become editor of its weekend section, called Weekend. Eventually the army dropped the publication, allowing my father and a friend to take it over. They ran it first from Frankfurt, Germany, until the 1948 currency reform. The reform made the cost of production so great that they had to relocate to Paris. Eventually Weekend ran out of gas and my father moved back to the U.S.

Sterling chose to land in New York City, a fertile ground for post-war journalism and publishing. After leaving or losing jobs at three different magazines—Cosmopolitan, True and 21—Dad decided he needed a job from which he could not be fired.

Through his magazine work, he had dealt with many literary agents.

He found them ill-equipped to deal with the changing literary market and to represent their clients well. Further, he thought many of the magazine writers he knew could be excellent book authors. Event though he had never done it, he believed he was capable of representing them. He decided to become a literary agent.

Dad opened his agency in 1952, and the rest is history.

When I was 8 years old, my family summered in a small town in southern Massachusetts on Buzzards Bay. One day my nanny and I were going into town for a trip to the mall. When Dad found out where we were going, he gave me an assignment. He told me to go into the bookstore at the mall, find all the books written by his authors and move them to shelves at eye level. Mission impossible: my first assignment. I was so excited.

When we got to the mall, to the horror of my nanny, I marched right into

the bookstore and began scouring the stacks for books written by my father's clients. I found many and immediately began placing them on shelves at eye level, as I displaced books not represented by my father. Remember, I was 8, so as you might imagine, my eye level was most people's high-thigh level. Realizing this, I put the books on shelves that were at the top of my arm's reach. I was busy working away when the proprietor came up to me to ask if I needed help. I told him, no, thank you, I didn't. He went on to ask what I was doing.  I promptly turned to face him and said, "I am improving your store." My response silenced him, and he left me alone long enough for me to complete my mission. In spite of my nanny's profound embarrassment, I walked out of that store proud and immensely happy to be part of Dad's team. Initiation accomplished.

To this day, my father's tenacity remains intact. In 2010 he  had open-heart surgery. He was 89 years old at the time. I remember the enormous relief I felt the day after his surgery. I could feel in my bones that he was going to make it. He was high and happy from the morphine that was supporting him, and the relief he must have felt at surviving the surgery. In the midst of his elation, he looked at me and asked if I would call, let's say her name is Sue, an author he represented whose work was in the midst of making the rounds with publishers. That night, I reached Sue, who lived in Colorado and told her that my father would be getting back to her in a day or so.  There was a pause, after which Sue chuckled and said, "Rebecca, just tell your father to call me when he gets back to the office." Even faced with death, my father remained on the job.

As long as I have known my father, his passion has supported him. Through multiple marriages, clients coming and going, and challenges of all sorts, the pulse of his passion has never waned. It has been the current that has carried him through life.

Some are lucky enough to be born knowing their passion. Others seek it all of their lives.  Most of us are somewhere in between. My father found his early in life. My own passion showed itself when I was a child, got obscured for about 20 years, and then re emerged.

Passion wants to be found. It is the lifeblood of a great people and a great society. My wish for all of you, most particularly those graduating today, is that whether or not your passion has blossomed yet, that you commit yourself to allowing it to emerge. The life you will have by allowing it is beyond what you can dream. It will enrich and enliven the exquisite education you have received at Grinnell. And it will serve the world.

If I can give you one gift, it is a drop of the elixir of passion that runs through my father and me. I offer it to you now to ignite, excite and inspire you. I offer it in deep gratitude for what Grinnell has given my father and now me.

Please take your journey with eyes, mind and heart open.

Revel in the adventure. And let conscious passion be your guide.

Thank you.