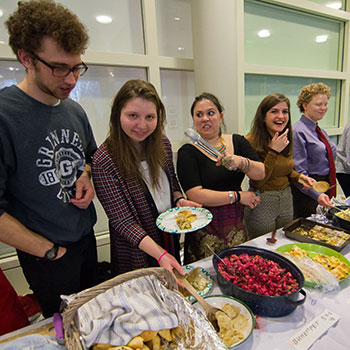 A longstanding tradition in the Russian department, our annual Slavic Coffeehouse and Maslenitsa this year was a tremendous success, thanks to the leadership of Russian House and our Russian majors, as well as all of our Slavic and Russian-speaking international students.
A huge crowd of students, faculty, staff, and community members enjoyed Russian favorites like bliny, borscht, and pirozhki, as well as Czech, Polish, Serb, and Uzbek dishes, all prepared by students.
Maslenitsa, a traditional Orthodox holiday, is Russia's version of Mardi Gras, during which we customarily burn a chuchelo (scarecrow) of winter. This year's fire was spectacular, with flames leaping high against a dark blue sky. Charlie Eddy '16 treated us to a rendition of Russian bard Vladimir Vysotsky's "Он не вернулся из боя" ["He didn't return from battle"].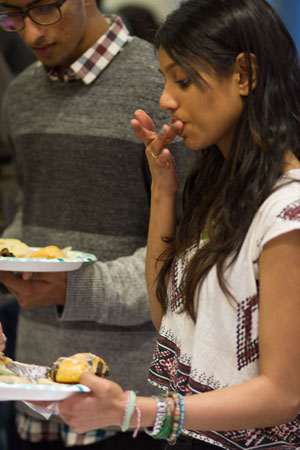 The Slavic Coffeehouse and Maslenitsa were held in Bucksbaum Center for the Arts this year, where guests enjoyed the wonderful exhibit in Falconer Gallery, "Siberia: In the Eyes of Russian Photographers."
This event was part of our exciting extracurricular programming in the department, which also included a visit by Eric Greene '85, director of the Office of Russian Affairs in the Bureau of European and Eurasian Affairs, and former Russian ambassador John Byerle, as well as a book talk by Anya Von Bremzen, author of Mastering the Art of Soviet Cooking, a Memoir of Food and Longing. 
All photos courtesy of Michaela (Misha) Gelnarova '18.