Grinnell College Libraries presents a book talk with Dr. Edward C. Cohn on Friday, April 15, at 4:15 p.m. in Burling Lounge. Dr. Cohn, Associate Professor of History, will discuss his book, The High Title of a Communist, published by Northern Illinois University Press in 2015. 
The High Title of a Communist analyzes the Soviet Communist Party's system of internal discipline in the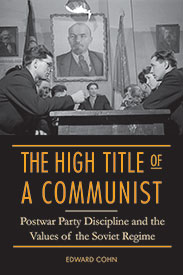 twenty years after World War II, focusing on investigations of corruption, war-time collaboration with the Nazis, drunkenness, and sexual misconduct among Communists. Professor Cohn has now begun a new research project on the KGB's efforts to fight dissent and political unrest in the Baltic republics of Lithuania, Latvia, and Estonia. In particular, this project focuses on the tactic known as the "prophylactic conversation," in which the KGB sought to prevent low-level offenders from becoming hardened enemies of the regime by "inviting" them to supposedly informal "conversations" or "chats."
Edward Cohn came to Grinnell in 2007 after completing a Ph.D. in Russian history at the University of Chicago. A 1999 graduate of Swarthmore College, he worked for a year as a journalist before entering graduate school and specializes in the social and political history of the Soviet Union in the decades after World War II. Professor Cohn is also the chair of the Russian, Central, and Eastern European Studies concentration (RCEES). He travels frequently to Eastern Europe and the former Soviet Union and is always happy to work with students on independent research projects related to the region.
Grinnell College welcomes the participation of people with disabilities. If you plan to attend this event and need accommodation, please contact Burling Library as soon as possible to make your request.