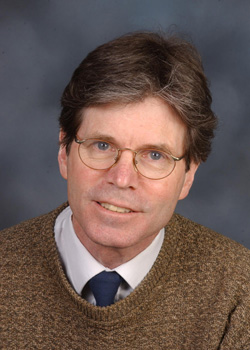 Dudley Andrew, Selden Rose Professor of Film and Comparative Literature at Yale University, will give a lecture on French cinema of the 1930s and '40s on Thursday, Feb. 18, 2016.
The lecture, which is free and open to the public, is titled "From Ciné-Liberté  (1936) to Film Maudit  (1949): Fever, Contagion, and Caution in the Avant-Garde."
It will start at 7:30 p.m. in Joe Rosenfield '25 Center, Room 101.
Andrew will describe how French films of the 1930s and 1940s led into the New Wave, a film movement that engages in social and political upheaval, in the 1950s. He also will explore the collaboration between filmmakers, their sense of people, the popular, and everyday life as a "Site of Creativity."
Andrew will use three films — A Day in the Country, Zéro de Conduite,  and The Lower Depths, which will be screened on campus earlier in the week — to frame his argument. He will show how the filmmakers were engaged in the social and political debates of their time. All three films are part of the Poetic Realist movement in 1930s France and depict the different tensions and struggles within French society of the time.
The Center for the Humanities, which is sponsoring the lecture and the screenings of several French films, has chosen "Site of Creativity" as its theme for the year.
The Film Screenings
The film screenings will take place in the days before the lecture, on Feb. 16 and 17. French pastries will be served at the screenings, which are free and open to the public.
7 p.m. Tuesday, Feb. 16, Harris Center Cinema
A Day in the Country  followed by Zéro de Conduite
7 p.m. Wednesday, Feb. 17, Harris Center Cinema
Grinnell welcomes and encourages the participation of people with disabilities. Rosenfield Center and Harris Center have accessible parking in lots to the east. Room 101 is equipped with an induction hearing loop system. You can request accommodations from the event sponsor or Conference Operations and Events.