Roxane Gay's visit to Grinnell on April 7, 2016 has been cancelled. 
Bestselling author and feminist scholar Roxane Gay will read from her work and discuss writing on Thursday, April 7, as part of the Writers@Grinnell series and Scholars' Convocation at Grinnell College.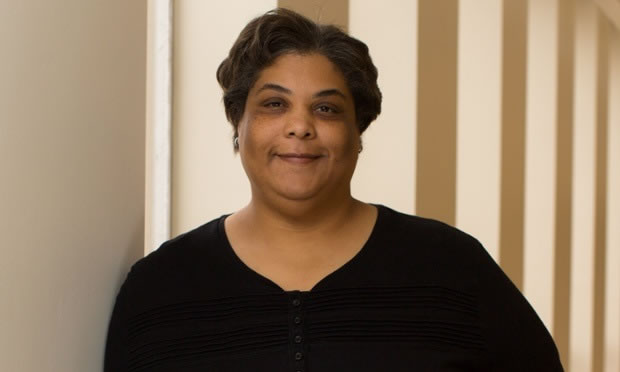 The Scholars' Convocation lecture will start at 11 a.m. in the Joe Rosenfield '25 Center, Room 101.  
In addition, Gay will lead a free, puplic roundtable discussion at 4:15 p.m. April 7, in Rosenfield Center, Room 101.
An accomplished scholar, Gay is an associate professor of English at Purdue University in Indiana. Her research interests include the intersections between race, gender, and popular culture; contemporary fiction; and the political novel.
Gay uses her personal experience with race, gender identity, and sexuality to inform her analyses and deconstruction of feminist and racial issues in her work. In addition to her more serious scholarly and creative work, she is a well-known figure on social media, with tens of thousands of Twitter followers, many of whom are drawn to her often irreverent and humorous "instant" commentaries on major news events, politics, pop culture, and reality television.
"Bad Feminist," her bestselling essay collection, is a personal manifesto that takes readers through the journey of Gay's evolution as a woman of color and describes how feminism affects Gay's own life — for better or worse. The essays cover a wide a range of topics, from competitive Scrabble to novels written by women to advice on acknowledging privilege.
Gay's writings on gender and racial inequality have won numerous awards in recent years and have appeared in Tin House, Oxford American, The New York Times Book Review, Bookforum, Time, The Los Angeles Times, The Nation, The Rumpus, Salon, and many other media outlets.
Gay's debut novel, Untamed State, explores the privilege that made Haitian-American Mireille Duval Jameson a target for kidnapping and the strength she must draw on to survive the kidnapping and reclaim her life. Deadline.com recently reported that the novel will be adapted for film by Beyond the Lights director Gina Prince-Bythewood. Gay is co-writing the script with Prince-Bythewood. Gugu Mbatha-Raw has been selected to portray Jameson.
Gay's latest book, Hunger, is scheduled to be released in June. Hunger focuses on Gay's experience with weight, body image, and building a positive relationship with food.