February 27 2014 03:29 pm
Susan Klumpner '09 loves tennis. So much so that she has turned the sport into a vehicle to teach social skills to students in Chicago-area schools, lessons that can mean more in life than a finely tuned backhand.
Klumpner played tennis for Downers Grove High School in Downers Grove, Ill., all four years. Then she played tennis for three seasons at Lawrence University before transferring to Grinnell for her final season.
Since her junior year in high school, Klumpner has coached beginning and advanced summer camps for kids, teens, and adults. During her last year at Grinnell, Klumpner served as a student coach for the women's team. That experience cemented her interest in coaching.
First Steps Along the Social Work Path
Meanwhile Klumpner was taking important steps toward a career.
In a seminar called NGOs: Organizing to Do Good with Chris Hunter, professor of sociology, Klumpner wrote a term paper analyzing the operations of a domestic violence shelter that was experiencing serious budget problems.
She was able to intern at that shelter the previous summer thanks to a competitive grant she won through the Center for Careers, Life, and Service. The Noun grant paid for her living expenses that summer since the internship was unpaid. "This marked my first step into social services," Klumpner says.
After completing a master's degree at the University of Chicago's School of Social Service Administration, Klumpner landed a job as a school social worker in a junior high in the south Chicago suburbs.
The Tennis Path Circles Back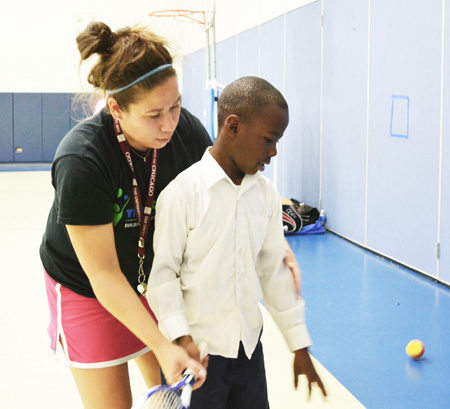 Klumpner was volunteering for a non-profit that put tennis in charter schools when the idea for the Active Children Excel (ACE) Project bloomed. "There's little community programming in Riverdale," she says, and when another non-profit had its funding drastically cut, she saw an opportunity.
She co-founded the ACE Project with a colleague, Leah Friedman, junior development coordinator for the United States Tennis Association (USTA) Midwest Section.
Changes in tennis have made it more accessible. For kids 10 and under, the rackets, balls, nets, and courts are smaller and more kid friendly. Scoring is different too.
In week one of the ACE Project's four-week curriculum, kids learn some basic racket control — balancing the ball on the racket then dropping the ball and trapping it.
"Tennis requires so much practice and is both mentally and emotionally grueling," Klumpner says.
But the ACE Project isn't just about teaching kids how to play tennis. The tennis skills development works hand-in-hand with social skills development.
Teaching Life Skills
After some work on racket skills, kids are asked, "Can you give an example of a time when you were not patient? How would patience have helped you through the problem?"
"It's very engaging for kids," Klumpner says. They discuss the idea of patience as it relates to sports and on the tennis court, but also in the classroom.
Klumpner says, "Teachers report that it's almost impossible to do cooperative activities in the classrooms. But the ACE Project is able to create a safe space where kids can have confidence in each other."
To help make the program self-sustaining, Klumpner and Friedman are helping train elementary school teachers in coaching 10 and under tennis. Two schools have been given their own equipment thanks to a grant.
Growth, Success
In addition to her full-time job, Klumpner serves as the ACE Project's executive director. She still uses one of the textbooks from her seminar on nongovernment organizations. It has helped her decide who to appoint to the ACE board of directors, how to run board meetings, and how to make smart budget choices.
Eventually Klumpner wants to add an academic piece to the program as well.
"I wouldn't say we're really building tennis skills," Klumpner says, although she believes there's much untapped sports potential among the kids in the program.
Ultimately, she says, "It's about equipping kids with life skills."