Sixteen Grinnell students — fourteen women and two men — joined two computer science professors, Janet Davis and Samuel A. Rebelsky, as well as more than 4,750 other attendees from 53 countries at the 2013 Grace Hopper Celebration of Women in Computing (GHC).
Programs like the trip to GHC, visiting alumni scholars, and encouragement on campus have allowed Grinnell to increase its percentage of women enrolled in computer science, a STEM field seeing dropping female enrollment in America.
Women in Technology
Hilary Mason '00, who was not at this year's conference, attended her first GHC conference as a graduate student and later became a conference presenter. She says she's felt "I'm in a room with my people" at other computer science conferences. "But Grace Hopper was the first time I was in a room with 1,000 computer science people who were women. It's a powerful experience, more powerful than you'd expect."
Mason, a leading data scientist, was faced with the challenges of creating a balanced team while working as the chief data scientist at bit.ly. Diversity in technology fields is important for development, she says, and the field has limited diversity in areas such as gender, race, age, and socioeconomic level.
She works with programs like the Anita Borg Institute (which hosts GHC) and Girls who Code to help encourage young women to enter the field. Mason, who has presented at the conference before, says it helps women to develop support relationships and young women to picture themselves in technology careers.
That's important, says Davis, because many women are fairly isolated in their workplaces and academic institutions. "It was wonderful to find a safe place where women [can] talk candidly about both what they are proud of and what challenges they face." She continues, "I took a group of four women to [GHC] two years ago. Since that trip, they have really become leaders in the department, and we've seen an uptick in the number of women majors as they have been taking on those leadership roles."
The Excitement of Technology
Jennelle Nystrom '14 decided to major in computer science after her first visit to the conference. She says, "At [GHC], I got to see all the exciting things that the technology field was doing, a side you don't often see in your classes."
"I think it is the best computing conference for undergraduates," says Davis. "Computer science doesn't really have one big conference. The field is just too broad. Computer science has a lot of smaller conferences splintered by sub-discipline."
Because it doesn't have a sub-discipline focus, Davis says, "GHC is the one computer science conference you can go to to learn the breadth of research as well as the breadth of work opportunity in the field."
That scope attracts men to the conference as well, like Prashanna "Mani" Tiwaree '14 and Evan Manuella '16, who also attended the conference this year. "It's important to include men," says Davis, "not only because GHC is a great conference for undergraduates exploring the field, but because most of the men I've talked to say Grace Hopper is a transformative experience. They get to experience being in the minority; they get a little bit more empathy with what that is like."
Training, Exploration, and Activities
The students had a chance to meet many leaders in the field. Nystrom, for example, reports she had dinner with the CTO of Twitter, who also attended a liberal arts college.
Dilan Ustek '14 — one of three Grinnell students who worked as conference volunteers — was rewarded with the chance to translate for Tülin Akin, an award winner from Turkey.
Students also met with alumni in the field both during the conference and at a gathering coordinated by the alumni office.
Technology Jobs
Nystrom is one of the women who has taken a strong leadership role at Grinnell, says Davis. As a student worker in the Center for Careers, Life, and Service, Nystrom helped Grinnell's attendees get ready for the conference's career fair. She worked with them on résumés, career skills, and networking etiquette. The advance work has been paying off for the students with internships and contacts in business and graduate schools.
Mason credits her prominence in the technology community for helping her develop and manage a gender-balanced team as bit.ly's chief scientist, but many companies rely on the job fair at GHC — one of the largest in the field — to identify and attract talented women.
Nystrom says that her first visit to the conference and her summer research experiences at Grinnell led to a summer internship at Microsoft. This year several students had interviews at the conference, were offered internships, and made contacts within the field.
In the end, Rebelsky says, students return excited and confident that they have a place in the field.
The students' participation was funded by the conference, the Wilson Program, Grinnell's Howard Hughes Medical Institute Grant, and the College's student/faculty research fund.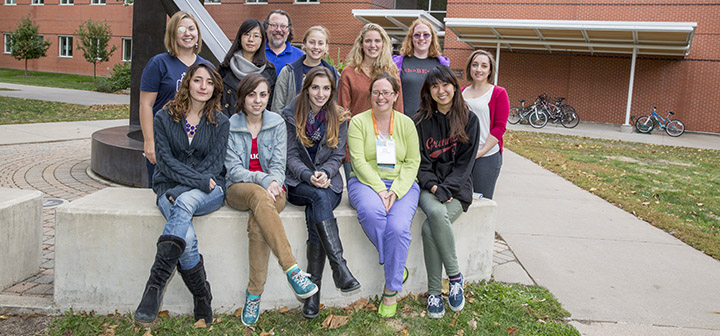 (left to right)
Seated: Dilan Ustek '14, Lea Marolt-Sonnenschein '15, Nediyana Daskalova '14, Janet Davis, Christine Tran '16
Standing: Lexy Greenwell '15, Shen Zhang '16, Samuel A. Rebelsky, Madeleine Hardt '16, Mira Hall '16, Marsha Fletcher '15, Jennelle Nystrom '14
Not pictured: Alexandra Greenberg '16, Evan Manuella '16, Tiffany Nguyen '16, Kitt Nika '16, Kim Spassaro '14, Mani Tiwaree '14