The Grinnell Singers will launch their spring 2017 tour with a concert in at:
2 p.m. Sunday, March 12, in Sebring-Lewis Hall in the Bucksbaum Center for the Arts, 1108 Park St., Grinnell, Iowa.
Grinnell and Minnesota Concerts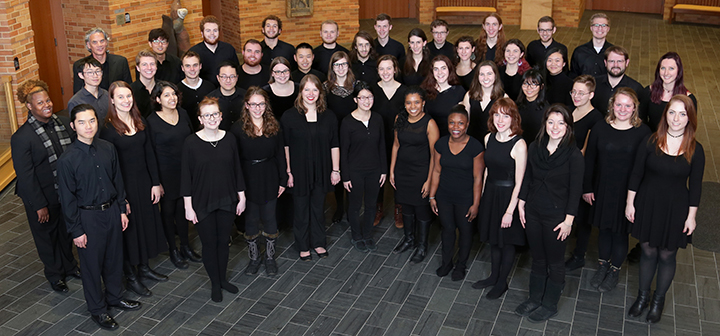 The 44-voice choir will join forces with Minnesota's Lyra Baroque Orchestra to perform The Passion of Christ (Der Tod Jesu) by Heinrich Graun, a concert-length work for choir, orchestra, and soloists.
Although it was later eclipsed by J. S. Bach's famous Passions, Graun's work was one of the most beloved pieces of its day. The singers will be debuting this neglected masterpiece in several of the venues on the tour. The performance is free and open to the public.
The Lyra Baroque Orchestra is a professional period-instrument ensemble centered in the Twin Cities, and led by Dutch harpsichordist Jacques Ogg. Directing the piece will be Internationally renowned conductor Simon Carrington, co-founder of The King's Singers and professor emeritus of music at Yale University.
The soloists have an extraordinary array of talent. Soprano Maria Jette, who has an angelic voice, is beloved by Twin Cities audiences. The Spanish mezzo soprano Nerea Berraondo has been hailed as "one of the most powerful and evocative voices of the current Spanish vocal landscape." The versatile tenor Roy Heilman has been described as sweetly lyrical by the Minneapolis StarTribune. Baritone Thomas Meglioranza '92 has received rave reviews by The New York Times, which "wrote "sublime is the first word that comes to mind."
This is the second time that the Grinnell Singers, a select choral ensemble directed by John Rommereim, Blanche Johnson Professor of Music, has collaborated with the Lyra Baroque Orchestra. In 2015, the two ensembles combined for a highly successful performance of Handel's Esther oratorio.
As part of the spring concert tour, the Grinnell Singers and the orchestra will also perform two  concerts in Minnesota:
7:30 p.m.  Saturday, March 18, at Hamline University's Sundin Music Hall, 1531 Hewitt Ave., St. Paul, Minnesota.
4 p.m. Sunday, March 19, at Christ United Methodist Church, 400 Fifth Ave. S.W., Rochester, Minnesota.
Tickets are $25 for adults, $20 for seniors and public radio members, and $10 for students. Tickets are available from Lyra Baroque.
Illinois and Wisconsin Concerts
The choir will also present concerts in Chicago and Monmouth, Illinois, and Milwaukee, Wisconsin. These performances, all of which are free and open to the public with a free-will offering at the door, are set for:
7:30 p.m. Monday, March 20, at St. John Cantius Church, 825 N. Carpenter St., Chicago;
7:30 p.m. Tuesday, March 21, at St. Joseph Chapel, School Sisters of St. Francis, 1515 S. Layton Blvd., Milwaukee;
7:30 p.m. Wednesday, March 22, at Monmouth College's Dahl Chapel and Auditorium, 810 E. Broadway, Monmouth.
The program will feature a wide array of works ranging from the 16th century to the present day, including an exuberant work by William Byrd that puts the glories of Renaissance choral writing in high display. The program also includes:
A dramatic selection from Rachmaninoff's beloved "All-Night Vigil," which tells the Easter story;
Selections from Graun's "Passion of Jesus," the 18th century's most performed passion;
An evocative depiction of the northern lights by Latvian composer Eriks Esenvalds;
A sensitive Longfellow setting by the young American composer Nico Muhly;
A rousing spiritual arrangement by Stacey Gibbs; and
Shawn Kirchner's joyous shape-note arrangement, "Hallelujah."
The Grinnell Singers have toured Finland, Estonia, Russia and Turkey. The choir has produced two recordings, including a CD of Rachmaninoff's "All-Night Vigil," which was praised for its "consummate artistry" by Iowa Public Radio.
Grinnell College welcomes the participation of people with disabilities. Accommodation requests may be made to Conference Operations.
The College welcomes the presence of minors at all age-appropriate public events and for informal visits, with the understanding that a parent, legal guardian, or other responsible adult assumes full responsibility for their child's safety and behavior during such visits or events. In these cases, the College expects that an adult responsible for the visiting child takes measures to ensure the child's safety and sees that the child complies with directions of College personnel. Grinnell College is not responsible for supervision of minors on campus.