September 1 2017 08:57 am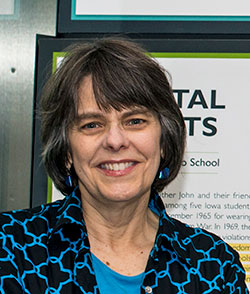 Mary Beth Tinker, of the U.S. Supreme Court case Tinker v. Des Moines (1969), will share her experience as a participant in the case and its effect on her life.
She will present "Inside the Schoolhouse Gate: Student Rights and the Constitution" at 5 p.m. Wednesday, October 4, 2017, in Harris Center Cinema.
Tinker's talk is sponsored by the Education Professions Community, a part of Careers, Life, and Service, and the Department of History.
Photo of Mary Beth Tinker (Photo Credit: Maria Bryk, the Newseum)
Grinnell College welcomes the participation of people with disabilities. Accommodation requests may be made to Conference Operations.
This venue is equipped with an induction hearing loop system, which enables individuals with hearing aids set to T-Coil to hear the program.
The College welcomes the presence of minors at all age-appropriate public events and for informal visits, with the understanding that a parent, legal guardian, or other responsible adult assumes full responsibility for their child's safety and behavior during such visits or events. In these cases, the College expects that an adult responsible for the visiting child takes measures to ensure the child's safety and sees that the child complies with directions of College personnel. Grinnell College is not responsible for supervision of minors on campus.