For many Grinnell students, the College-owned prairie down Interstate Highway 80 is much more than a place to do biological research — though plenty of that happens.
It's a place where you can write, read or paint, listen, canoe, or meditate. The 365-acre Conard Environmental Research Area (CERA) 11 miles west of Grinnell fosters reflection, study, and growth.
"I ask our students, 'Is it worth it to spend some quiet time to contemplate?'" says CERA manager Elizabeth Hill.
Often when people hear the term "prairie," they think flat, flat, flat. CERA's rolling terrain belies that. The Grinnell prairie contains remnant and reconstructed tallgrass prairie, oak savanna, riparian forest, and woodlands.
Just down the hill from the center, you can canoe on 14-acre Perry Pond. The North Skunk River runs along CERA's eastern edge.
Trekking through nature's diversity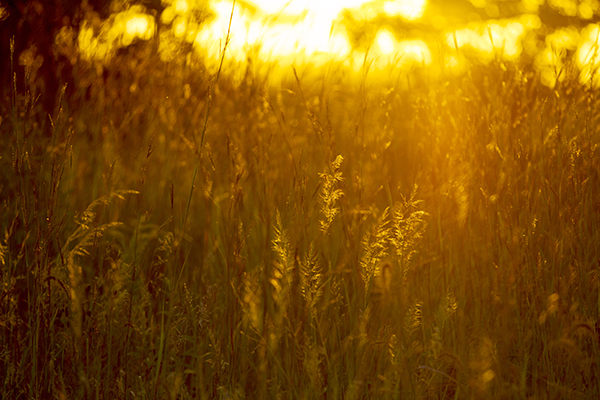 Look around and you could see wild turkeys and bluebirds, and plants such as bloodroot, Jacob's ladder, and Virginia waterleaf.
"These are remnants of the past," Hill says. "They are reminders of a fully functioning ecosystem. You get on the landscape and you will learn who you are. It's intertwining landscape and human history."
Biology students inventory the life they see on the woodland floor. Chemistry majors research conditions at the pond. Artists capture the view, or use it as inspiration.
You can visit on your own, too.
"It's a wonderful experience," says Jonathan Andelson '70, director of the Center for Prairie Studies.
"The prairie exposes people to a very different way of experiencing place. The sky. The wind. The sound of the wind in the grasses and trees. The night sky. It can be wonderfully embracing."
A Living Lab
Students study test plots to see how plants respond to different combinations of fire and mowing. "The prairie is about death and rebirth, loss and restoration," Andelson says.
Underneath is some of the richest soil on the planet.
"Why is so little prairie left? Because of agriculture. Why do we have so much agriculture? Because the prairie provided such good topsoil," Andelson notes.
Those questions set up decades of outdoor learning experiences at Grinnell.
"The land has been used for production purposes, but that use has sometimes become abuse at the cost of biodiversity," Andelson says. "Students are being allowed not only to do research, but also to become doctors to the land to bring it back to health."
During the summer, students care for the prairie in a 10-week Summer Restoration Assistant (SRA) Program. In 2014, the SRAs were Toni Androski '16, a biology major, Nick Matesanz '16, biology; Liza Morse '15, biology/Spanish; and Carl Sessions '15, philosophy.
Discover for yourself this learning oasis: the prairie and Grinnell.