Christine Ajinjeru '14 traveled nearly 8,000 miles to get to Grinnell College. Sarah Burnell '14 went less than 8 blocks. Despite their differences—cultural, geographic, and otherwise—or perhaps because of them, the two Academic All-American track stars have become best friends.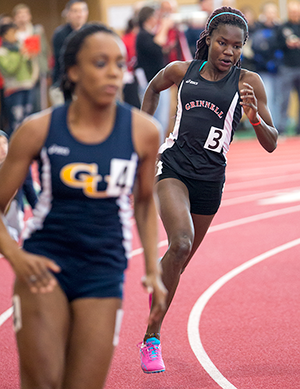 Choosing Grinnell
One thing they did have in common was that neither of them thought they would go to Grinnell — Ajinjeru because she'd never heard of it and Burnell because it was too close to home.
Ajinjeru thought that since much of her education had been in the British system, she might go to a commonwealth school. After speaking to a representative of Grinnell who visited her school and talking with current Grinnell students also from Uganda, she made up her mind without even visiting.
For Burnell, though, the visit made the difference, even though it was a very short trip. "I just felt the connection at Grinnell. I sensed community here," Burnell says.
Running Track
They didn't come to track in the same way either. Burnell had been running since high school, both track and cross country. Ajinjeru didn't try track until she got to Grinnell. Both were on the 4x400 team, and both went to nationals — Burnell for the 1,500 meter run and Ajinjeru for the 400. Both were named to the Academic All-America list. They would share a hotel room during away track meets, and watching an episode or two of Say Yes to the Dress became a regular pre-meet ritual.
They grew closest during their senior year through track events. "We went to nationals together, a huge thing. You are sharing your dreams," Burnell says.
Both women believe that their differences deepened their friendship. "In my opinion, coming from different parts of the world drew us closer since we each had an opinion or view that was different. But when we talked, we each realized how valuable the other person's opinion was," Ajinjeru says.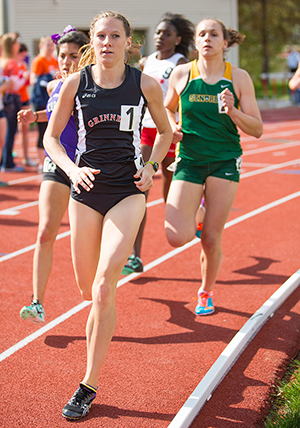 Post-Grinnell
After graduation, there's always a fear of losing touch with your college friends. But with a friendship forged in competition, it's going to take a lot more than distance to separate these two.
Burnell is staying in Grinnell for now. She works for the College as the coordinator of commencement and conferences.
Ajinjeru is entering a joint Ph.D. program in energy science and engineering at the University of Tennessee in Knoxville and Oak Ridge National Laboratory. She plans to take her knowledge and experience back to Uganda, where she will focus on sustainable energy and potentially setting up extracurricular programs that encourage creativity and innovation among students.
Christine Ajinjeru '14 is a chemistry major from Kampala, Uganda.
Sarah Burnell '14 is an anthropology major from Grinnell, Iowa.