About the Grinnell AmeriCorps Partnership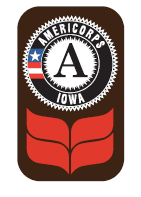 Now in its third year, the Grinnell AmeriCorps Partnership brings together community non-profits, area employers, the Grinnell-Newburg School District, and community volunteers to support kids and families in Grinnell. By working together in new ways, the partnership aims to:
Give students a strong start so they can succeed in school in the early years; and
Help students with a strong finish so they are prepared to do well after graduation
The community's interest in working together to better support local kids and families began when the school district was introduced to the national Campaign for Grade-Level Reading in the spring of 2013-14. The enthusiasm grew rapidly with a unanimous decision by 20+ community organizations to apply to join the Campaign. A 2015 AmeriCorps grant transformed the effort by funding a team of AmeriCorps Members to support both the Campaign for Grade-Level Reading for young students as well as a "Skills Gap" initiative at the high school level. The partnership was awarded two grants for 2017-18. Similar to the first years, the grants will provide for more than 50 AmeriCorps Service Members who will coordinate community-based partnerships and help with summer learning programs.
2017-18 AmeriCorps Team
2017-18 AmeriCorps Service Members
During the 2017-18 school year, four AmeriCorps Members served with the Grinnell AmeriCorps Partnership through year 3 of the AmeriCorps grant. AmeriCorps Members focused on health and wellness to ensure kids are prepared to learn (Healthy Readers Taskforce Coordinator) and helped support after-school literacy efforts (After-School Enrichment Aides).
Pictured below are the AmeriCorps Members who served during this academic year.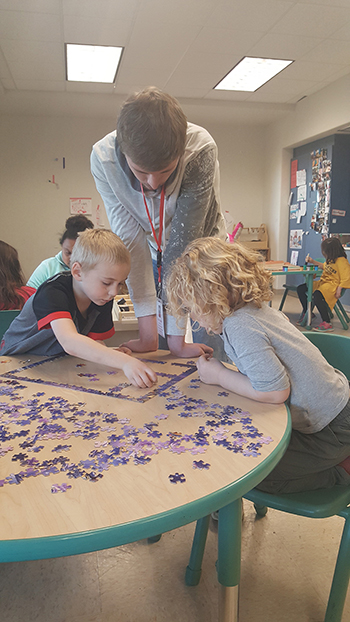 Kyle Cogley (at table with puzzle) and Claire Sponheim (at table with hand tools) served at the Grinnell Community Daycare & Preschool providing direct service to support after-school literacy efforts in Grinnell.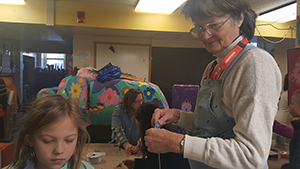 Carolyn Bittner was placed at the Grinnell Area Arts Center, also providing direct service to support after-school literacy efforts.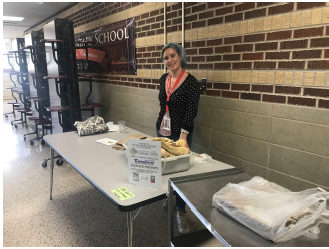 Sara Brown served at Imagine Grinnell and debuted the Recipe–in–a–Bag program at the Community Meal, a weekly free meal accessible to the public. The program's goal was to increase food access by providing individuals and families with fresh produce, other ingredients, and a recipe—all in a bag to prepare at home.
2018 Summer Learning Corps Members
As part of Grinnell's larger Grinnell AmeriCorps Partnership, 2018 Summer Learning Corps members are working directly with students in local summer youth programs to provide literacy enrichment.  Under the direction of host site supervisors, members are implementing literacy-based education and/or enrichment activities so Grinnell's local youth can improve reading skills and mitigate summer learning loss.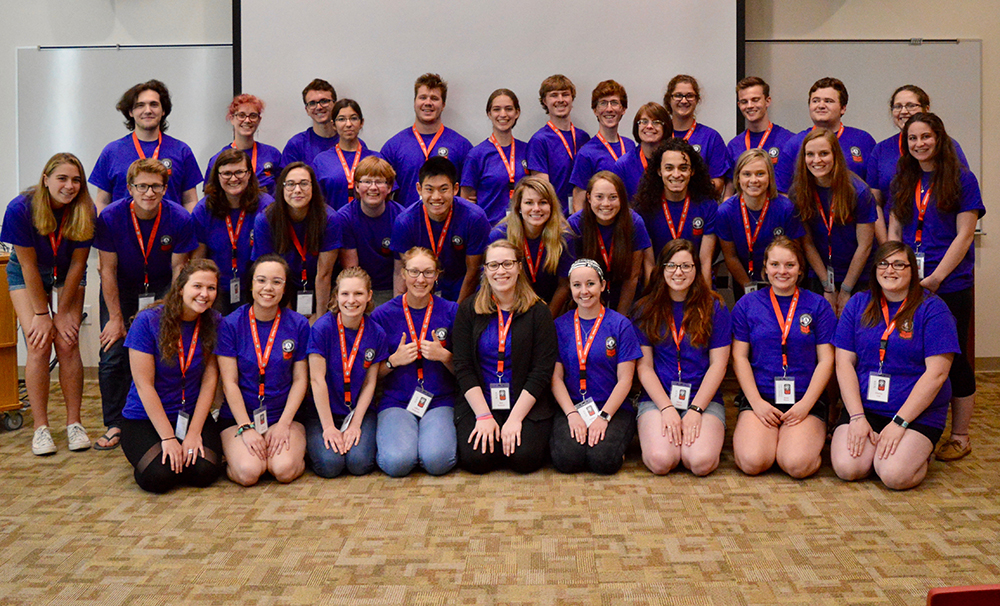 2018 Americorps Summer Learning Corps Members
 First row, left to right: Emily Hulsing, Cecilia Mitchell, Zoe Shinefield, Gillain Ferguson, Ave Deitrich, Kaitlin Wells, Haley Deppe, Anna Moen, and Cherise Cox.
Middle row, left to right: Kaylin Kuhn, Tommy Clower, Ellen Schneider, June Christian, Robert Shore, Justin Chen, Liliann Hatting, Katherine Leathem-Rietz, Ernest Nanetti-Palacios, Kenadie Fiebelkorn, Regan Gritsch, and Elyse Salpekar. 
Back row, left to right: Julien Moisan, Keli Vitaioli, Jarrett Rose, Milena Silva, Cole Riley, Sandra Skouson, Kyle Cogley, Lucas Chamberland, Shelly Vokoun, Cici Dugas, John Muckler, Zachary Loftin, and Alayna Costner-Withee.
Partnership Supporters
How to Get Involved
If you would like to support Grinnell's Campaign for Grade Level Reading with a financial contribution or would like to get involved as a volunteer through the Grinnell AmeriCorps Partnership, please contact the Greater Poweshiek Community Foundation to express your interest.
About AmeriCorps
AmeriCorps is a program of the Corporation for National and Community Service, a federal agency that engages more than 5 million Americans in service through its AmeriCorps, Senior Corps, Social Innovation Fund, and Volunteer Generation Fund programs, and leads the President's national call to service initiative, United We Serve.
AmeriCorps engages more than 75,000 members in intensive service annually to serve through nonprofit, faith-based, and community organizations at 25,000 locations across the country. These members help communities tackle pressing problems while mobilizing millions of volunteers for the organizations they serve. Since 1994, more than 900,000 Americans have provided more than 1.2 billion hours of service to their communities and country through AmeriCorps.